Monday, October 13, 2008: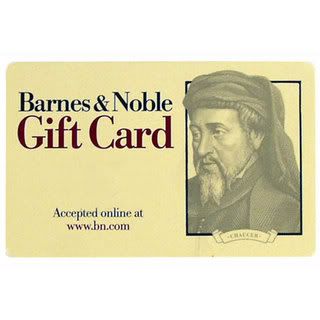 Today is the last day of Stacy questions, and today's prize is something I think all booklovers can appreciate: a
$
25 giftcard to Barnes and Noble
! Obviously the questions are going to be a bit tougher, but they are not impossible. Contest ends
Thursday, October 16th @ 7pm CST
.

Hint: the answers (most likely) can be found at the blog if you "search" for them.

***
1. What is my Sexy Name Decoder alias?
2. What is my favorite Robert Frost poem?
3. What was my first YA romance?
4. What is my hometown and what movie(s) was filmed there?
5. What was the first man-love romance I read, and who wrote it?
6. What is the first book I ever read by Suzanne Brockmann?
7. Which book depicts my favorite first kiss between the h/hn?
8. What is my favorite Halloween t.v. special?
9. What is my favorite animal?
10. When I was little I was afraid of dying (morbid kid). Where did I decide I was going to move so I could live forever?
***
Thanx to each & every one of you for making my
birthday weekend extra special.
This has been a lot of fun and I hope you
guys enjoyed playing along :)
Here's to birthdays everywhere!