Wednesday, October 08, 2008: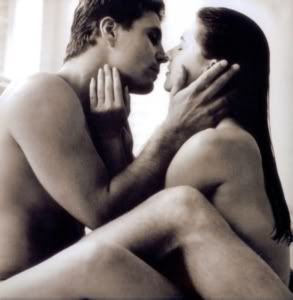 Here I am again, surrounded by stacks and stacks of books yet I'm asking for even more. You can never have enough books. I got some really great suggestions when I recently asked for paranormal recs, and so now I'm once again asking for reading ideas. This time around it's to appease my naughty girl (reading) tendencies. Lately I've been getting interested in erotic romance again. I used to read quite a bit of Ellora's Cave and Samhain Publishing releases but haven't really read a lot recently. Now I'm really in the mood for some extremely sexy reads, and I just know y'all will come through for me on this one.
I suppose I should define my idea of erotic romance. It's the super hawt stories - either m/f or m/f/m - that contain the HEA but focus heavily on the sexual side of the relationship. Though I love these authors and think they write really sexy stories, I would not consider them to be erotic romance authors: Lori Foster, Elizabeth Hoyt, Lisa Kleypas, Erin McCarthy, Janelle Denison, HelenKay Dimon, Lucy Monroe. Some readers may, but I've been reading most of their books for years, and consider them more sensual than sexual.
Here are some of the erotic romance authors I've read:
Lacey Alexander - love her books, as long as the heroine is not all about pleasing the hero instead of herself.

Shiloh Walker - her Hunter series is awesome.

Lora Leigh - read the Men of August and Bound Hearts. Hot but predictable.

Jaid Black - defintely hot, but the same story is recycled over again. Sometimes, I admit, that works for me though.

Sylvia Day - they keep getting better and better.

Bertrice Small - my earliest erotic romance education around the age of 12. Nobody does "kidnapped as a sex slave for the sultan" like Small.

Susan Johnson - raunchy yet rather clinical.

Robin Schone - definitely clinical. Not my thing, though many readers love her books.

Elizabeth Scott - more edgy, sometimes not all that sexy.

Jess Michaels - more sensual and romantic. I like them very much.

Jaci Burton - I loved "Wicked, Wild & Wanton" (or was it "Wild, Wicked & Wanton"?)

Emma Holly - hit or miss, mostly hit. I love the intense need she creates in her characters - they just "have" to have it. Very hawt.

Susan Lyons - very sexy and contemporary erotic romance. Most enjoyable.

Sasha White - leans too much towards BDSM, which really ain't my thing.

Angela Knight - Erotic vampire lovin' and oooh, I want "Jane's Warlord".

Red Sage "Secrets" - some good, some bad. Definitely sexy though.
So all you naughty women out there: tell me who rocks
your erotic romance world and why.
Feel free to give specific titles.
Thank you for your support ;)
Labels: erotic romance