Tuesday, September 30, 2008: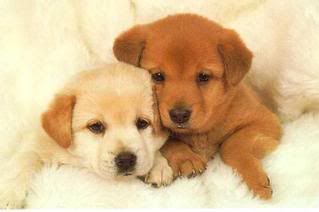 Awww. Aren't these guys just precious? Almost nothing sweeter in the world than the face of a puppy, unless it's two puppies *g* I needed something cute and sweet to focus on after the last week or so of watching the news. Everytime you turn around there's something else to get upset about, whether it's the awful economy, the faulty banking industry, people losing jobs, the price of gas - you name it, there's so much bad stuff going on right now.
I work for a credit union, and there's nothing more frustrating than having to stand aside and keep quiet, even when you know you can help people, because they just don't believe what you have to say. People can't trust anyone these days, and no matter what you tell them, no matter how true it is, people panic, or do what they're gonna do and damn the consequences. You can't completely blame them; these are such uncertain and shaky times and people's confidence has been tested beyond their endurance. Sometimes you just have to ride out the storm and pray it ends soon. For everyone's sake.
So these days I actually dread going into work. I don't hate it, but I don't feel enthusiastic about getting up and facing another day. I'm constantly grateful I have a place to go to, and that I don't have to worry about losing my job, so I try to stay upbeat. It's not always easy. Especially when you see your friends who work in other industries losing their jobs, or unable to pay their bills. It's hard to stay positive.
Of course you can't focus on the bad stuff all the time, otherwise you'll just go crazy. Fall is here, with all its beauty, and although it's not my favorite time of year because it's getting colder and winter is not far away, I can't help but be dazzled by the gorgeously vibrant colors. And the scent of cinnamon and apples, pumpkin spice, bonfires and toasted marshmellows, these are all cozy, happy smells that make me smile.
And with fall comes the fall t.v. season. Though I don't watch t.v., I can't help but get caught up in the enthusiasm over a new show, or the return of an old favorite. I remember that feeling very well. And only feel a twinge of regret that I'm not as addicted as I once was to the tube. I was obsessed.
Of course there is always the fall books to look forward to, and this year is no exception. I've been lucky enough to read some of my most coveted 2008 stories from Lisa Kleypas and Julia Quinn, and can't wait to get my hands on the holiday books that usually come out in October.
Sports! The baseball season is not over yet, and teams are duking it out as they fight to get into the World Series. Football is just starting, which is definitely a fall sport. I'm more of a hockey fan myself, but as long as the action is exciting, I can get into a good game of almost any kind.
What do you fall back on to forget the troubles of the world?
What are some of your favorite things about fall?
Labels: favorites