Wednesday, September 17, 2008: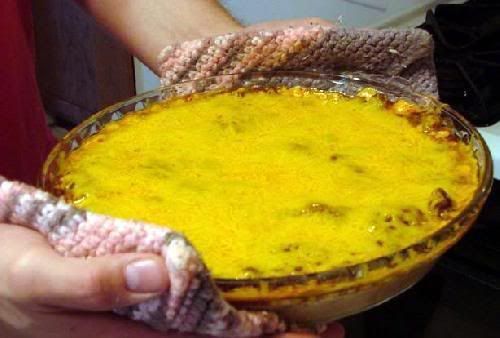 *
Taco Dip
1 8-oz pkg of cream cheese (low fat may be substituted)

1 8-oz can of Hormel chili, no beans (turkey chili may be substituted)

2-3 cups of shredded cheddar cheese
1. Spread softened cream cheese over bottom of glass pie pan
2. Next, spread Hormel chili over the top of the cream cheese
3. Top with the 2-3 cups of cheese (I like a lot of cheese!)
4. Nuke for about 3-5 minutes and serve with tortilla chips. El Ranchero Mexican chips seem to be the best.
This is my fall-back recipe whenever I need something quick & yummy. It's always a huge hit. In fact a bunch of my girlfriends and I are getting together this weekend, and I'm bringing this to the party. Well this, and chocolate cake. To be honest I could eat just this though and be perfectly happy.
Have any quick 'n easy recipes that work every time?
Labels: recipes