Wednesday, September 10, 2008: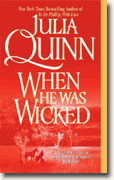 Book #6 in the Bridgerton series
Theme: Unrequited Love
Defnition
: Unrequited love is
love
that is not openly reciprocated, even though reciprocation is usually deeply desired. The beloved may not even be aware of their admirer's deep affections.
Out of the several themes to be found in romance novels, unrequited love tends to be my favorite. But it has to be the hero who experiences it, otherwise it's not as effective. There is just something about a hero who pines so deeply for the heroine that always turns me into a puddle of mush. I guess I just love the idea of a strong, arrogant man completely smitten with a woman who, for whatever reason, he cannot claim. And because it's a romance, you know it's all going to turn out well in the end, but it's the "how" that keeps me coming back for more.
My choice for favorite book of this theme is Julia Quinn's "When He Was Wicked". Just read this and tell me it doesn't make your toes curl:
In every life there is a turning point.
A moment so tremendous, so sharp and breathtaking, that one knows one's life will never be the same. For Michael Stirling, London's most infamous rake, that moment came the first time he laid eyes on Francesca Bridgerton.
After a lifetime of chasing women, of smiling slyly as they chased him, of allowing himself to be caught but never permitting his heart to become engaged, he took one look at Francesca Bridgerton and fell so fast and hard into love it was a wonder he managed to remain standing. Unfortunately for Michael, however, Francesca's surname was to remain Bridgerton for only a mere thirty-six hours longer -- the occasion of their meeting was, lamentably, a supper celebrating her imminent wedding to his cousin. But that was then . . . Now Michael is the earl and Francesca is free, but still she thinks of him as nothing other than her dear friend and confidant. Michael dares not speak to her of his love . . . until one dangerous night, when she steps innocently into his arms, and passion proves stronger than even the most wicked of secrets . . .
I don't know about you, but I was hooked by the first sentence (and not just because I'd already read the first 5 books in the series). Francesca was really not much to write home about, but Michael, oh Michael, now he was something else. The poor guy was completely, utterly in love with his cousin's wife (soon to be widow), and I would have totally traded places with Francesca in a heartbeat. Of course I questioned his sanity to fall for such an unremarkable heroine, but if that was his only flaw, I coulda made do with that.
But maybe that's part of the appeal. It didn't make a difference that she wasn't some extraordinary, special, unforgettable superwoman to anyone other than him. Michael fell instantly in love with Francesca, and every woman after her paled significantly. It wasn't just the way she looked or the color of her hair, it was her. Because she existed. No one else could compare because they just weren't Francesca. It was that simple. A woman might have been prettier, smarter, more interesting, but Michael didn't care. He was consumed by one woman. The whole idea just makes my toes curl.
It's like the song "She's Not You" by Elvis Presley (click
here
to listen):
Her hair is soft and her eyes are
oh
so blue.
She's all the things a girl should be
but she's not you.
She knows just how to make me laugh when I feel blue.
She's ev'rything a man could want
but she's not you.
And when we're dancing
it almost feels the same.
I've got to stop myself from whisp'ring your name.
She even kisses me like you used to do.
And it's just breaking my heart 'cause she's not you.
What are your thoughts on unrequited love?
Have a favorite book with this same theme?
Labels: Julia Quinn, themes, unrequited love