Wednesday, August 27, 2008: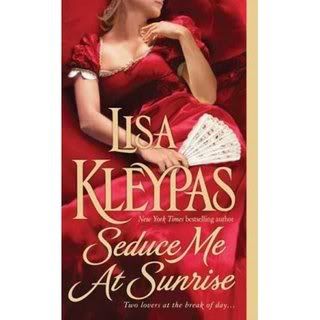 Mass Market Paperback: 384 pages
Publisher: St. Martin's Paperbacks (September 30, 2008)
Language: English
ISBN-10: 0312949812
ISBN-13: 978-0312949815
He has tried so hard to forget her.
Kev Merripen has longed for the beautiful, well-bred Winnifred Hathaway ever since her family rescued him from the brink of death when he was just a boy. But this handsome Gypsy is a man of mysterious origins -- and he fears that the darkness of his past could crush delicate, luminous Win. So Kev refuses to submit to temptation...and before long, Win is torn from him by a devastating twist of fate.
Can she remember the man he once was?
Then, Win returns to England…only to find that Kev has hardened into a man who will deny love at all costs. Meantime, an attractive, seductive suitor has set his sights on Win. It's now or never for Kev to make his move. But first, he must confront a dangerous secret about his destiny—or risk losing the only woman he has lived for…
Two words: keeper shelf. Anyone who knows that I read romance knows that Lisa is tied with Judith McNaught for my all-time favorite historical author, and this book is classic Kleypas. "Seduce Me At Sunrise" is the 2nd story in the Hathaway series, and by far the best one. While I enjoyed "Meet Me At Midnight", it was missing the intense emotion I crave in my books. This 2nd one nailed it perfectly though, and reminded me of all the magic and passion that exists in my favorite romances of all time
.
*
One reason I was so impatient to read this book is because we meet Merripen, a Gypsy orphan who grew up in the Hathaway house, and Win Hathaway, one of the four daughters of the family in "Meet Me At Midnight", and discover that there were strong feelings simmering between them. It was so deliciously thrilling that I couldn't wait to read more. I was half afraid that Lisa would end up writing someone else's story first, and normally I don't mind that, but this time I wanted my instant gratification, and was so relieved that I was going to get it.
*
When Merripen first comes into the Hathaway home after being left for dead, he is much like a wild animal, snarling and wary. Little more than a boy, he has lived a life no child should experience, full of hatred and violence, and it has left his soul unsettled. Nursed back to health by the Hathaways, he dreams only of escape, until a calming voice calls to something inside him, something necessary and powerful. Merripen knew then he couldn't leave, wouldn't leave her.
*
Along the way Merripen began to see that maybe the Hathaways needed him, and he set out to take care of the practical details of life that seemed to escape their attention. He would fix the broken chairs, repair the holes in the ceiling, tend to the animals and the garden. The Hathaways accepted him as part of their family, most especially the delicate, blonde Win, whom he wasn't fit to look at much less touch. Merripen's love for her was not a sweet, pure love, but a painful, all-consuming passion that tore at his heart and yet soothed him as nothing else ever could. One he hopes she will never feel for him because in his mind, he could never be good enough for her.
*
To Win, Merripen is the man who sets her soul on fire, who makes her feel strong, beyond her delicate nature, the other half of herself. She feels so alive with him, unafraid, vibrant, beautiful. She knows in her heart that he cares for her, but he refuses to acknowledge it, pushing her away and denying what just is. In frustration and with the hope of being whole and healthy one day, Win leaves for France, determined to conquer the weakness that has held her back for so long. She believes that one day Merripen will let himself love her, if only she was strong and normal. Needing something to hold onto, she leaves him and her family behind, wanting that day where she will be well enough to return and begin her life. But will Merripen realize how precious their love is before it's too late?
My thoughts:
Win appears as delicate and as wispy as dandelion fluff, but inside her beats the heart of a tigress, one who loves her man deeply and completely. Even having known Merripen as a child doesn't lessen the fascination and desire she has for him. She's not afraid to admit her feelings, nor is she afraid to take that step to help herself heal and become whole for once. To Merripen, she is joy and light and harmony sustained by a will of steel. I loved her honesty, her acceptance of what she felt for Merripen. She didn't shy away from her feelings, didn't run scared. She may have come across as substantial as mist, but deep down Win possessed a strength that kept her standing upright, a knowledge of her feelings that refused to be denied. She was also his strength.

Merripen. Oh, what a classic, tortured hero this guy is! I'm a sucker for unrequited love, and knowing that Merripen has lived for his Win for so long, fighting it every step of the way, why it's incredibly irresistible. He's loved her since the first moment he saw her, even before that, and it was a love that grew and matured into an adult love. He hated himself for weakening, for allowing himself to touch her when he knows she can do so much better. Usually this attitude bugs the hell out of me, but Merripen is completely convinced he is unworthy of Win, and because of the way he grew up, fighting like a rabid dog, I feel his resistance was completely justified. While reading this book, I recognized a Heathcliffe-like quality about Merripen's feelings, so strong and absolute and full of agony because his heart beat for her and for no other reason. Yet he could not allow her to ruin her life for him. Regardless of his feelings. But he did not spend his time moping around for Win. Merripen shone in other ways, running the estate until the rightful heir was ready to take over the reins, and earning the respect of gentry and servant alike. He was intelligent, incredibly hard-working, practical, and confident of his abilities - a natural born leader. I loved that he found something he excelled at, something that gave him purpose and kept him from self-destructing. There was a moment when his sacrifice almost cost both him and Win, and I may have actually hated him for his behavior and lack of action, but I managed to gloss that over and came to terms with his choice, understanding it if not totally agreeing with it, and let myself move on. Merripen truly believed he was doing the right thing at the time. Thank God he finally came to his senses.

The Hathaways. This family grew on me, and I loved how they rallied around Merripen when he was just a child, how they affectionately thought of him as one of theirs even when he refused to do the same. Despite his being a Gypsy, they never thought of him as anything less than family, including him even when he resisted. Whether he knew it or not, the Hathaways were his real family, and he became the great man he was meant to be with their love and support.

Win and Merripen together. So much of the book revolves around their undeniable feelings for one another, and I had to catch my breath as I realized that the experience I was having while reading this tremendous book was remniscent of the classic romances I had read and adored years ago, including those of Lisa herself. There is a minor distraction in the guise of Dr. Julian Harrow, but not enough of one to take away from the complete and utter love story of Merripen and Win. My heart ached for Win when Merripen pushed her away again and again, and ached even more when Merripen believed in his heart that he had absolutely no right to be happy, and to certainly not soil the pristine Win. But she loved him as a woman, and her desire wasn't so pure and innocent, but raw and intense and physical, an elemental match to his own violent passion. Time and again she wished he would shove her off that pedestal he'd placed her own and see her as a real woman. It took a long time for Merripen to get up the nerve to do just that.
*
Passionate, beautifully written, exceptional. Those are some of the many words I would use to describe this book. I fell completely under Merripen's spell (but don't tell him that because I don't think he would approve). Merripen is a prime example of the hero to die for, so much in love with his heroine yet agonized over it. He hides his true feelings, yet longs for the smallest bit of affection. He's stoic, complex, and at times uncaring if he lives or dies. What could be more irresistible than rescuing such a hero from the brink? Not much. "Seduce Me At Sunrise" is the stuff unforgettable romance novels are made of, and thank God we get to experience it, even if it's all too rare. Now I must go and re-read this lovely, poignant love story all over again.....
Rating: ****3/4 out of *****
Labels: Lisa Kleypas, reviews