Monday, August 25, 2008: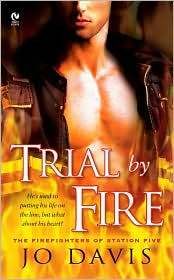 Paperback: 352 pages
Publisher: Signet; Book 1, The Firefighters edition (August 5, 2008)
ISBN-10: 0451224779
ISBN-13: 978-0451224774
Meet Lieutenant Howard "Six-Pack" Paxton— one of the handsome, hard-bodied firefighters of Station Five.
Four-alarm fires have nothing on him…
Howard may love being a firefighter and riding his Harley, but there's nothing he values more than his bachelorhood. That is, until a feisty, curvaceous teacher named Kat McKenna falls into his arms at the scene of a fire—and melts the six-foot-six tower of bronze muscle…But just as passion ignites between them—and they explore new heights of sexual ecstasy—a ruthless arsonist with a deadly secret and a thirst for vengeance becomes their worst nightmare…
I'd not really heard about this book until I saw my pal Kati gushing about it over at her blog, going so far as to immediately re-reading it all over again. Then as I also mentioned earlier, Michelle Buonfiglio highlighted this book at her blog, and from those two responses to the book, I just knew I HAD to get it. So I rushed over to the bookstore, grabbed my copy (and a lusciously decadent hot chocolate) and did something I rarely, rarely do: dumped the book I was currently reading (sorry little book that wasn't "Trial By Fire", I promise to come back!)
All I can say is "holy freakin' wow!" This book was so amazing. I loved that it was straight-up contemporary with a romantic suspense element, but what really drove the story was the relationship between Kat and Howard (an unlikely name for a hero, but one I got past fairly quickly).
Jo Davis
writes a sexy, fun and emotional story between two wonderful characters and a completely evil villain tied to Howard's past.
When Howard and Kat first meet, it is when the house she is looking after burns and Howard's fire station is called to the scene. Kat being Kat, she can't just sit still and let the professionals do their job, she has to try to help, which results in her suffering smoke inhalation and needing medical care when Howard comes along and assists her. They are immediately aware of each other, despite the dangerous circumstances, and Howard tries to find reasons not to leave her side. But then a horrifying discovery is made at the crime scene, and Howard has to put aside his new and intense attraction for the unforgettable Kat for the time being and concentrate on doing his job.
But he can't forget about Kat, and as it turns out, she can't forget about him either. They immediately become involved, their mutual attraction burning hot and bright, and before long, both Howard and Kat are falling in love. But will Howard's tragic past keep them apart, or will a heartless killer destroy the one chance at happiness that Howard has ever known?
My thoughts:



Howard. OMG. Yeah, the name is not one that immediately comes to mind when you think of a sexy, brawny, virile lover, but Howard is all that and a whole lot of decadent pleasure thrown in. AND he rides a motorcycle (swoon). So after awhile, his name was just who he was, but it didn't define him. What made him so appealing is that he was incredibly gorgeous, the stuff of women's fantasies, and he has absolutely no clue, so when he's with Kat, he's always wondering if he's doing or saying the right thing, but not in a lame kind of way. Instead, he's all about respecting her, but also letting her know that he finds her beautiful and sexy and he really wants to be with her in the most basic, primal fashion. He knows in his heart that Kat is not a temporary fling. She's the real deal.






Kat. She's a voluptous blonde with a sense of humor and no desire to exercise. I loved her right away for that. There was no shame radiating from her about the fact she was bigger than a size two. To Kat, she was who she was and made no apologies that she didn't spend half her time at the gym and the other half avoiding food with calories. I liked how affectionate she was with Howard, always touching him and letting him know she found him attractive, but also teasing him and having actual conversations with him. She called him on it when he tried to avoid the issue, because she knew they could have something really special if he let himself trust her, as she trusted him. Kat wanted the real thing and she wanted it with Howard.






Howard and Kat together. Explosive. Howard was a very earthy, sexual man who has his dominant ways in the bedroom, and they all resulted in Kat's pleasure. Their scenes in bed were smokin' hawt, and could be summed up in this one simple sentence that seems so basic and obvious and yeah, it totally worked for me: (Howard to Kat on page 121:) "You need me to fuck you hard, don't you?" This excited Kat (and the reader) to no end. Howard tapped into Kat's hottest fantasies in a way no other man ever had, and because he cared for her, it made it even more explosive.






The villain. Pure, unredeemable evil. That's what made the tragic fires and deaths so frightening: the killer had an agenda that he was going to carry out at all costs, and didn't care who was sacrificed in the process. This monster had no regard for human life, and actually took pleasure from the pain and torture and horrors he committed. He was truly sick and twisted, and it upped the ante on the risks Howard took, and the danger Kat was in.






Howard's past. Another element that made this story more emotional and raised the stakes between him and Kat. Howard had an incredibly abusive childhood, one that haunts him to this day, and one that sadly left permanent scars. Howard is afraid to share his pain with the woman he loves, and this stubborn decision could push away the one person he cares about more than anything. Howard has to come to terms with past if ever he's going to have any kind of a happy future.






The other firefighters. This is book one in a series, and I believe there are four more after about the

special firefighters

of Station Five. I fell for these heroes right away, and look forward to learning more about them and discovering their HEA. Each character has their own appeal, and I'm just as curious about them as I was about Howard and Kat. And if their stories are anything like "Trial By Fire", then I am so there.
So there you have, the magic that is "Trial By Fire". It has all the elements of a keeper romance: deep emotion, hot sex, likeable characters a reader can relate to, believable conflict, and everyday heroes/heroines living their lives while protecting others. I highly recommend that you stop what you're doing right now and GET THIS BOOK.
Rating: **** 3/4 out of *****
Labels: firefighters, Jo Davis, reviews