Wednesday, August 20, 2008: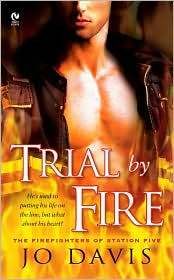 Meet Lieutenant Howard "Six-Pack" Paxton— one of the handsome, hard-bodied firefighters of Station Five.
Four-alarm fires have nothing on him…
Howard may love being a firefighter and riding his Harley, but there's nothing he values more than his bachelorhood. That is, until a feisty, curvaceous teacher named Kat McKenna falls into his arms at the scene of a fire—and melts the six-foot-six tower of bronze muscle…
But just as passion ignites between them—and they explore new heights of sexual ecstasy—a ruthless arsonist with a deadly secret and a thirst for vengeance becomes their worst nightmare…
Huge thanx to
Kati
and Michelle for bringing it to my attention. I actually put aside the book I was already reading because of how they raved about it.
Labels: current reading, Jo Davis