Monday, August 11, 2008:
It's Saturday, our last day in San Francisco. It's been gorgeous for the entire time, and we couldn't leave without checking out more of the sights.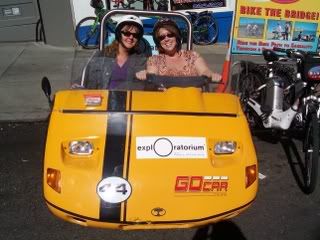 Go Cars!
Now this was a total and complete awesome thing to do. Beth was our fearless driver while I was in charge of picture duty. These things only go about 40 mph, but for the most part that wasn't a problem. It was such a cool way to tour part of the city - you really felt like a part of the whole experience. I would definitely recommend it to anyone who gets the chance. Well worth the price.
The bridge from our Go Car tour.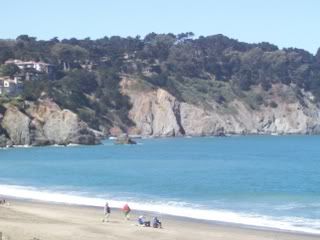 China Beach - no nudists today...thank God.
Beth got a picture of me standing with my feet touching the ocean. I was wearing my helmet at the time so you can imagine who totally "cool" I looked...not. It sure gave us something to giggle about later, that's for sure.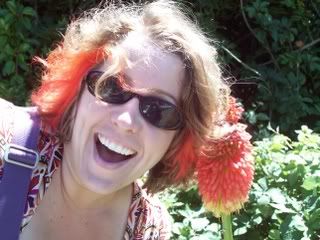 Beth at the Japanese tea garden - she fits right in.
The gardens were lovely, and I especially liked this colorful flower, which just happened to match the "fire" in Beth's hair.
the Go Car down Lombard Street, the crookest street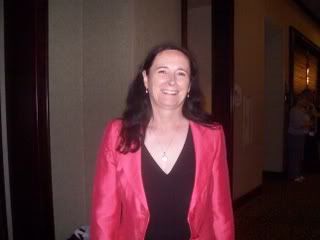 the woman who started it all for me - Carole Mortimer
I was so mad at myself for not getting a picture of her at the Literacy signing, but Beth, BadBarb and I hung out near the ballroom to watch all the authors in their finery, and eagle-eye Barb spotted Carole and brought her over, where I then squeed like a crazed fangrrl. Not my finest moment, but Carole was so gracious and posed for several pictures, especially when I told her she was the first romance author I'd ever read. I was thrilled.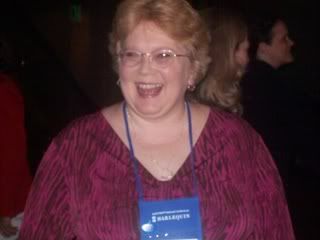 Patti!
Toni Blake looking just gorgeous
OMG I just love her dress. The color is wonderful, and she looked amazing, much like a princess on the way to the ball.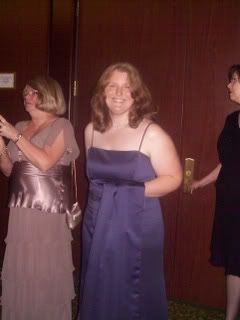 Lindsey Faber
Lindsey runs Toni's yahoo group, and I believe she also works for Samhain. She's so nice and friendly, and I had to get a picture of her looking so glamorous. Thanx Lindsey, for humoring me.
Roxanne St. Claire
Another glam author who came over to talk to us, and a friend of the Bellas. She was another super nice lady and we enjoyed talking to her.
Oh la de da it's Mary F.
So there you have it - the end of my time in San Francisco. If ever you get the chance to go, I highly recommend it. I would go back in a heartbeat. It's a beautiful, incredible city, and there was so much I didn't get a chance to see.
What's your favorite city?
Labels: San Francisco