Tuesday, September 09, 2008: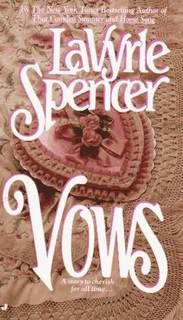 1988
Jove Books
One kiss...could change her life forever.
EMILY. With her sky-blue eyes, big dreams, and strong will, she was engaged to a man whose touch left her aching for something more.
TOM. The new man in town, he was a handsome and infuriating devil who challenged her heart's destiny...with a single, stolen kiss.
She was a fiesty tomboy; he was her father's rival in business. Whenever they met, sparks flew. Until she showed him how feminine she could be. Until he showed her how true passion could feel. Until they both realized the importance of taking vows with someone you truly love...
I heart LaVyrle Spencer and have for years. I've read most of her stuff, and though I didn't love all of it, the majority of it is emotional, traditional romance with real people and issues.
Out of all her books, "Vows" is absolutely my favorite romance. I know many readers love "Years" and "Hummingbird" and some of her other classics, but "Vows" always touched me more deeply than any of the other stories. I don't know why, as it's not quite as emotional, but this one gets me everytime. I can re-read it and still get butterflies in my stomach, and sigh with complete and utter happiness at the end. And tears, yes there are tears when I read this book. Not gushing, red-faced, sobbing tears, but happy tears for a sweet and poignant love story.
It's 1888. Emily is a tomboy who loves horses and is determined to make it as a veteranerian. Tom is new in town, having been dumped by his fiancee' and decides to start a new life in Wyoming Territory. When the two first meet, Tom mistakes Emily for a boy, which sets off her quick temper. She's rather rude to him, and in turn, he immediately dislikes her. This instant animosity sets the tone for their future dealings. Emily, while proud and stubborn, is confused by the intensity of her reaction to Tom, and doesn't know why she has the urge to impress him even while wanting to send him away. Meanwhile Tom is getting acquainted with the townspeople and finding a welcome distraction in Emily's pretty best friend, Tarsy.
The more Tom talks to people the more he hears that Emily Watson is an expert on horses, and how she's the one he should go to for advice when he chooses a team for himself. Reluctantly he approaches the prickly young woman, and together the two of them make the rounds to several nearby farms. During one of these visits, Emily's training is called into play, and Tom is impressed with her calm, caring and efficient manner. The episode also generates feelings of admiration and fascination in Tom, both of which are unwanted. The two ride back to town, strongly aware of each other but unwilling to think about what it means.
Meanwhile Emily's mother is dying from consumption. It's a horrible, wasting disease, and and one that's taken its toll on the entire family. Josephine insists on asking her cousin Fannie to come to the house to take care of her, knowing that her husband and Fannie fell in love many years ago, but Josephine was promised to Edward and he's always been faithful to her. Now that she's dying, Josephine sees fit to bring them together with the hopes that two of the dearest people in the world to her may have their chance at happiness.
In the middle of all of this, family friend Charles is courting Emily. He's been in love with her since they were children, and has asked her to marry him several times, but she's always turned him down. While she's fond of Charles and cares for him very much, she's just never been attracted to him, and his kisses leave her uncomfortable and awkward. Somehow during the confusion of one of these exchanges, Emily and Charles somehow end up engaged, which thrills Emily's family, but her, not so much. But she's resigned to the situation, and knows how much it means, especially to her mother. She pushes aside her feelings of doubt.
Tom is happy she's engaged to his new best friend...isn't he? All of a sudden he's seeing in Emily the woman Charles has seen all along, and he doesn't like it. He feels guilty for thinking about her in such an intimate matter, and throws himself towards Tarsy, but his heart just isn't in it. Somehow the tomboy has gotten under his skin, and during one fateful evening when the young people in town are playing parlor games like "Poor Pussy" and "Postman", Tom and Emily end up in the closet together, and Tom can't resist finding out if the incredible attraction between them is real, or all in his head. One fateful, stolen kiss, which leads to another, then another, and soon it's evident that the feelings are definitely mutual. Their hearts pounding, their consciences guilty, Tom and Emily discover a passion that they never knew existed. What were they going to do? How could they hurt their friends, their loved ones? What do you do when you find the person you've been waiting for, only maybe it's too late?
My thoughts:
Emily. She's smart, proud, and a damn good veteranerian in training. Dresses and dancing and curling her hair just doesn't interest her, it's not her passion. Animals are. She loves her family deeply, cares for her childhood friend Charles and tries to be a girlfriend to the beautiful, somewhat spoiled Tarsy. She despised Tom when she first met him, thinking he meant to steal business away from her father, but soon begins to admire him for his work ethic, his love of what he does, and the heartbreak he's suffered. Emily is the head-strong yet dutiful daughter, the caring friend, the capable assistant with medical training, but she's never gotten the chance to be a woman, and this is what happens when Tom enters her life. I liked Emily a lot, and though she could be a bit immature for someone who's had to grow up so fast, I understood her.

Tom. Right from the start he's the kind of man that most women would be drawn to, handsome, new in town, charming, he brings a bit of excitement to the community. But he's also a man with a strong work ethic, a man who wants to fit in with the townspeople and have a home and family of his own. He just never expected he'd want it with Emily. Even though he mistook her for a boy on their first meeting, once he saw the type of person Emiy was with her family, with Charles, and how she was with animals, he saw past the outer shell and began to admire her. Seeing her deal with her dying mother and the guilt she felt over Charles really got to him, but he wasn't going to let her get away, not when they had a chance at something really special. I liked Tom a lot too, because he was unsure and scared but he loved Emily, truly loved her, and went after her as only a man in love could do. He held her when the reality of her dying mother became too much, he saw inside her and witnessed the dreams that drove her to succeed, he took her hand when she had to break the heart of a man he called friend. Tom faced it all with her, and was the man Emily was meant to spend forever with.

Charles. One of the things about LaVyrle Spencer is that she doesn't make it easy on the reader. It's not always black and white and easy to choose sides. Charles was a completely wonderful person, and his love for Emily ran deep and true. He was also a genuine friend to Tom, and to see his heart get broken was utterly painful. But I believe it was the right thing to do. There will be readers out there who believe that Emily should have stayed with Charles, but I've never suscribed to that theory. How can you make a marriage work if you have strong feelings for another person? She wasn't even attracted to him. It would have been better if Emily didn't marry at all then to live with the guilt and resentment of marrying the wrong man. Maybe she could have grown to love him, but Charles deserved better than that. I hope that somewhere out there Charles did find the woman for him.

Tarsy. Well it was a little easier to live with this one because Tarsy wasn't always a very nice person. Used to getting what she wants and knowing she's very pretty and eye-catching, Tarsy fully expected to end up with Tom in the end, and maybe that wasn't all her fault. Things got pretty hot and heavy between the two of them, though they never went all the way. I think Tarsy did care for Tom, as much as someone like her could, so I felt bad that she got her heart broken, but she wasn't a very good friend to Emily after that, and I couldn't forgive her for her nastiness towards her.

Overall. Loved this book. Just loved everything about it. Found another copy at a UBS recently and devoured it all over again. If I've said it once, I've said it 3 million times how much I crave intensely emotional reads, and "Vows" is just that. The forbidden kisses in the closet between Tom and Emily can rival any modern erotic romance any day of the week. There's just something about these two people in love with each other that is more compelling than all the menages I've ever read about. Maybe part of it may have been that while they were kissing, all their friends were on the other side of the door, making bets that Emily would punch Tom before their time was up. Or another may have been that they both tried to fight it for so long, knowing it would hurt other people, but were helpless in the grip of their feelings. Not that I think it was right to hurt and deceive anyone, but I think it wasn't until the kiss that Tom and Emily had to finally acknowledge that what they felt for each other was more than infatuation, and that it would eventually pass. It was the turning point in their relationship, so significant that they had to make the life-altering decision whether or not to be together, and if they could make the sacrifices necessary to make it happen.
So while this isn't everyone's favorite LaVyrle Spencer novel, it happens to be mine. Classic, tender romance that makes me fall in love with the genre all over again. So maybe I can read 100 books this year and only a few of them will stand out. At least I have my keeper shelf to go back to. They never let me down. Here's to "Vows" and all the butterflies and tingles and sighs of happiness it has given me over the years. Thank you, LaVyrle Spencer, wherever you are.
Rating: ***** out of *****
Labels: keepers, LaVyrle Spencer