Thursday, August 28, 2008: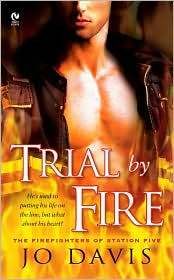 If you've read my blog
lately
, then you know how much I absolutely
loved
this book. I've decided to have a fun little contest, and with a little help from the author herself, I've come up with an idea that just might land you your very own copy of "Trial By Fire", signed by the delightful
Jo Davis
.
Here's the plan:
I'm going to ask you 3 questions, and if you get at least one of them correct, you will get an entry into the contest.

If you get all 3 questions correct, you get 3 entries.

In addition, there will be a bonus question (with no right or wrong answer) that will give you another chance to win the book (giving you up to a total of 4 tries).

So basically, even if you just answer the fun bonus question, you'll get at least one entry in the drawing to win a copy of the book.
Questions:
On

page 121

of "Trial By Fire", Howard and Kat have sex for the first time, and it's really quite hawt and exciting and erotic. If Jo Davis could live out page 121 with any celebrity on the planet, who would it be?

How many full-length manuscripts did Jo write before she sold?

Which publisher did Jo sell to, and what was the name of her story?

Bonus question

: which celebrity would

YOU

want to live out page 121 with???
('Course if you already own a copy of the book and just want to answer #4, please feel free *g*)
Just leave your responses here in comments, and a winner will be chosen no later than noon CST on Monday, September 1st.
Mark your calendars: Be sure to stop by my pal Michelle Buonfiglio's "Romance B(u)y the Book" on Thursday, September 11th, when Jo will be the special guest blogger, and the Bellas are all very excited about that. You can check out Michelle's thoughts on "Trial By Fire" here.
GOOD LUCK!