Monday, September 08, 2008: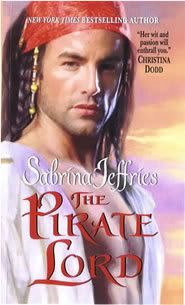 Mass Market Paperback: 384 pages
Publisher: Avon (April 1, 1998)
ISBN-10: 038079747X
ISBN-13: 978-0380797479

A Splendid Opportunity
A shipload of women—theirs for the taking! Pirate captain Gideon Horn couldn't be more delighted. His men are tired of wandering the high seas and want to settle down with wives on an uncharted island paradise. And the women will surely be grateful for rescue from the life of drudgery awaiting them in New South Wales… Lord, he's so clever!
A Splendid Passion
Married? To pirates? Sara Willis couldn't be more appalled. First she demands proper courting—at least a month. The darkly handsome pirate lord gives them a week. Then Sara insists the men vacate their huts for the women—Gideon demands her kisses in return. As the demands heat up, so do their passions—and soon Sara can't remember just why she's fighting the devilishly seductive captain so hard…
My first Sabrina Jeffries' book ever. I was "inspired' by Bella Julie to get a copy after a comment about a certain scene where the Pirate Lord takes matters in hand, so to speak. My interest was purely objective and clinical, I'm (so) sure.
Anywayz, I did enjoy this book, and thought Gideon was a deliciously wicked pirate. I mourned for the little boy he was and appreciated the man he became. I could have stood for a bit more darkness and less perfection with how everything turned out so smoothly, but it was a fun read, and Atlantis Island sounded like the perfect paradise. I liked Sara's character a lot, especially her loyalty and determination to help the convict women on the ship to New South Wales. She didn't turn her back on them once her HEA was realized. Instead, it was such a intregal part of who she was.
I was also fascinated by Ms. Jeffries' mention of St. Helena and Ascension Islands, and did a little research. It's one of those places you hope is never ruined by commercialism. Some things should be left untouched.
Rating: **** out of *****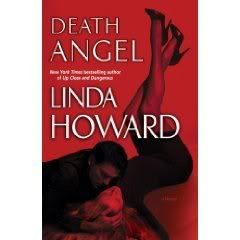 Hardcover: 352 pages
Publisher: Ballantine Books; 1 edition (July 1, 2008)
ISBN-10: 0345486544
ISBN-13: 978-0345486547
A striking beauty with a taste for diamonds and dangerous men, Drea Rousseau is more than content to be arm candy for Rafael Salinas, a notorious crime lord who deals with betrayal through quick and treacherous means: a bullet to the back of the head, a blade across the neck, an incendiary device beneath a car. Eager to break with Rafael, Drea makes a fateful decision and a desperate move, stealing a mountain of cash from the malicious killer. After all, an escape needs to be financed.Though Drea runs, Salinas knows she can't hide–and he dispatches a cold-blooded assassin in hot pursuit, resulting in a tragic turn of events. Or does it?Left for dead, Drea miraculously returns to the realm of the living a changed woman. She's no longer shallow and selfish, no longer steals or cheats or sells herself short. Both humbled and thrilled with this unexpected second chance, Drea embraces her new life. But in order to feel safe and sound–and stop nervously looking over her shoulder–she will need to take down those who marked her for death.Joining forces with the FBI, supplying vital inside information that only she can provide, Drea finds herself working with the most dangerous man she's ever known. Yet the closer they get to danger, the more intense their feelings for each other become, and the more Drea realizes that the cost of her new life may be her life itself–as well as her heart.
Leave it to Ms. Howard to jump-start me out of my reading slump. I devoured this book. She had me engrossed from the very first page, and though it wasn't as steamy hot as say, "Mr. Perfect", it was still a wonderfully sexy and intense story. It's also darker, lacking her trademark humor this time around, but no less enjoyable. One of the elements Ms. Howard does so well is to throw together two people who instantly and believably fall in love, despite the unlikely circumstances. This book is no exception. The hero and heroine here are virtual enemies, brought together when the assassin demands the heroine as payment for a hit. That should be wrong on so many levels, but instead it's handled in a way that sets events in quick motion, and it all comes together in a wonderful, intriguing way.
There are subtle "paranormal" elements here that are so convincing that they actually have a strong hand in bringing the hero and heroine together in a very satisfying, compelling manner. The love between them is so elemental, so necessary, it's like breathing. It just goes to show that sometimes love is immediate, complete, and everlasting, and all it takes is just a moment in time. Maybe it's not easy, or sweet, or light-hearted, but it doesn't make it any less wonderful. I would definitely recommend this one, especially to Linda Howard fans. I don't think you'll be disappointed.
Rating: ****1/2 out of *****
Paperback: 336 pages
Publisher: Berkley (September 2, 2008)
ISBN-10: 0425223248
ISBN-13: 978-0425223246
Harry Morant's tough, strong exterior hides a badly scarred heart. He's the natural son of an earl, and high-born ladies have only one use for him -- in the bedchamber. Now, after eight years at war, Harry's breeding racehorses and planning a practical, unemotional marriage. But when he buys a new estate, Harry's careful plans are threatened by an unexpected passion for -- of all things -- an earl's daughter.
Lady Helen Freymore, otherwise known as Nell, is not interested. A lifetime of lies has brought Nell to the brink of ruin. Trapped by poverty and scandal, she trusts no man; she has her own secret quest of he heart. Harry's pursuit of her, however, is relentless. Forced into a marrage she never sought, she soon finds herself powerfully drawn to this masterful but gentle soldier. But as Christmas draws near, Nell's secret past threatens to shatter their newfound happiness...
I learned about this book from RomanceNovel.tv, and knew I just had to get it. I even read it out of order, which surprisingly didn't bother me as much as I thought it would, though I do want to go back and read Gabe's story now.
I adored Harry, and his instant attraction to the not-so-pretty Nell, only she was completely beautiful to him. Who wouldn't love a man who sees past the obvious outer package and finds the lovely soul inside? I think that is exactly what Harry does, and once he gets to know Nell, and the pain she hides, he cares for her even more. He may have "forced" her into marriage, but only because he knows that in addition to their attraction, the union makes sense on so many levels, and offers advantages that Nell doesn't have.
And Nell. This poor woman suffered so much, and was almost completely alone in the world. To have anyone of worth like Harry notice her and not want to take advantage of her just doesn't make sense to her. Despite their obvious attraction and mutual love of horses, Nell feels that once Harry knows her secret, he won't want anything to do with her. But Harry is a good man, and he wants to take care of Nell, not because she's incapable of doing it herself, but because it's time she had someone she could rely on for a change. What a lovely pair these two make.
Rating: ****1/2 out of *****
"Unleash Your Story" current page count: 1,035 pages. Goal: 2,500 pages
Labels: Anne Gracie, Linda Howard, quickie reviews, Sabrina Jeffries