Monday, August 02, 2010: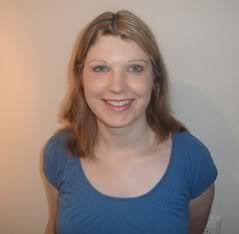 Sarah is also someone I met on Twitter, and since then, she's become one of of those people whose opinion I really respect because she always has valid and intelligent opinions, and tends not to follow the crowd. Plus she's also fun and interesting, and I'm excited to show her off to all of you. Now's your chance to get to know Sarah :)
Stacy: Feel free to tell us about yourself: name, background, etc. Are you a reader/blogger/writer?

I'm all of the above. I've been writing for years, mostly romance and mystery, with a brief foray into "serious literature". However, I only decided to pursue publication in the last year or so.

I originally set up my blog to help me curb my tendency to over edit. I knew I'd never blog regularly if I polished my posts as much as I did my writing. My rule is that I have thirty minutes to write a blog post, and a maximum of an hour for a review. It's definitely helped me to let go of some of the perfectionism in my fiction writing and learn to complete a first draft before making major revisions.

Do you have a blog? What is the name/link and how would you describe your blog?

I have a blog called Monkey Bear Reviews . I used to stick to blogging about books exclusively, but I found I was getting bored and my desire to blog was waning. Now I pretty much blog about whatever is in my head at the time, which usually centres around what I'm reading or would like to read, writing, and my family.

What book(s) are you currently reading? Would you recommend it?

I'm currently reading the third book in P.B. Ryan's Gilded Age mystery series which she recently released digitally on Smashwords. So far, I'm really enjoying it.

What is your most anticipated soon to be released book?

My most anticipated book of 2010 is probably 'Heartstone' by C.J. Sansom. It's the fifth book in his Tudor mystery series. In the romance genre, it's 'Hot Finish' by Erin McCarthy. I've been looking forward to Suzanne & Ryder's book since I read 'Flat-Out Sexy'.

What's playing nonstop on your iPod rotation right now?

A band called Within Temptation. They're a Dutch gothic metal band.

What are your favorite places to visit online?

Several romance blogs, including yours. [Smoochies!] One non-romance site I visit regularly is Board Game Geek (http://www.boardgamegeek.com/), which allows me to indulge my passion for board games.

What are some of your favorite things: beverage? food? t.v. show? book genre? restaurant?

I like wine. I also like cocktails when I'm out. I don't have a favourite food as it depends on my mood. T.V. show…I don't watch much T.V. anymore, but I quite like 'Sons of Anarchy'. My favourite book genres are romance and crime fiction.


Which hottie out there is to die for?

The British actor, Idris Elba. He played Stringer Bell in 'The Wire', among other roles.

What are some of your favorite tropes in romance? Some of your pet peeves?

I'm a sucker for marriage-in-trouble romances, but only in historicals; I like contemporaries set in small towns, especially when they revolve around a heroine who has returned to her roots and is reunited with a man from her past; historical romances which are not set in Georgian/Regency/Victorian England; heroines with questionable morals.

I dislike secret babies and spy plots, but I will roll with them if the book is written by an author I trust. With the notable exception of Karen Marie Moning's Fever series and Patricia Briggs' Mercy Thompson, I am not a fan of books featuring fur and fangs.

What is unique about where you live?

I live in Switzerland, land of nice chocolate and coffee.

What would people be surprised to learn about you?

Given that I read and write romance, it might surprise some people that I am not particularly romantic in real life. I can't stand cheesy chat up lines, romantic films, bouquets of flowers, Valentine's Day, sappy cards, etc. Give me a book voucher, though, and I'm charmed.

Stacy, thanks so much for having me!
Anytime, Sarah. It's always great chatting with you, and when you're published, I hope you'll be a guest blogger here at my place :)
Labels: online friends, spotlight