Friday, July 23, 2010:

I am really, really thrilled to have Blodeuedd here today, because for one thing, she is from Finland, and I'm Finnish, so that right there was tres awesome for me. Plus she adores Richard Armitage and Firefly, so she's major aces in my books. I'm excited to bring to all of you...Blodeuedd!

Stacy: Feel free to tell us about yourself: name, background, etc. Are you a reader/blogger/writer?

My name is Blodeuedd (well not really but I fear my alterego has taken over my online life). I am 27 years old, and have lived on the west coast of Finland all my life. I am still stuck in uni since I seem to change my mind all the time, or I just keep on getting degrees.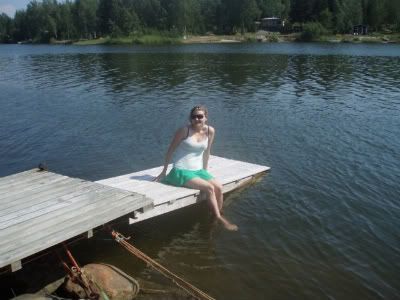 I am an avid reader and have been all my life, and then 1.5 years ago I created a bookblog, and finally found a home. I truly love seeing what others are reading, and blogging about books. And I never thought anyone would follow my little blog. Or that I would meet so many likeminded people.
Blodeuedd, many do ask, it means flower face in Welsh. She was created from flowers by wizards to marry a man who could not marry a human wife. She has an affair and together they plot to kill her husband. It all ends with her being turned into an owl to be haunted by all other birds. Not the happiest story, but I learnt to feel for her. Being created just to marry a man and no one asked her anything.
Do you have a blog? What is the name/link and how would you describe your blog?
My blog is called Book Girl at Mur-y-castell, the names comes from the court where Blodeuedd lived.

Those who follow my blog know that they will not come to my blog and find a genreblog. No, I love most books. Fantasy is my fav, but I rarely get to blog about it. Mostly it's PNR, UF, HR and fiction books. I have also started reading YA books (love dystopian), and I am a huge fan of chick-lit. I need to laugh now and again.

My blog is a mix of everything; I think I can cater to most tastes, with a few exceptions. But that is how I always have read. When I grew up I couldn't be choosy so I went for it all, and then I discovered the big world out there, and found UF and PNR. And how lovely it is to read in the books original language.

What book(s) are you currently reading? Would you recommend it?
I just finished Straight up by Deidre Martin, this fun contemporary romance and that one I do recommend. Next up Hostage to Pleasure by Nalini Singh, since I just finished Mine to Possess and liked it. But I do fear I will not be as obsessed as my friend became. But I am sure the few that have not started this PNR series could enjoy it.

What is your most anticipated soon to be released book?
That has to be Gail Carriger's Blameless, the way it ended, I still think about it, and if I do not get the book this instance I will surely die…ok I didn't die, but I do lust over it. A lot! I also want to read Mockingjay by Suzanne Collins, I need to know what happens in the end.

I haven't been listening to a lot of music lately (bf is always first with putting his music on) but my last obsession was Glasvegas. I love Billy Talent, we usually listen to that in the car. Then there is The Killers, 30 seconds to Mars, White Lies, Kings of Leon. Also Disco Ensamble and Paloma Faith playing on bf's computer.

What are your favorite places to visit online?

I could say a ton of blogs, but I do not want to leave out anyone.
So instead I will say facebook (I am yet again addicted to a game), Twitter, GoodReads, and the glory that is blogger, lol.

What are some of your favorite things: beverage? food? t.v. show? Restaurant?
I like milk, a lot. Food, I never say no to some yummy pasta, or Chinese food.
Tv, I do like Chuck, but those shows I can watch again and again are Stargate, Firefly, Dark Angel, and yes I am a sci-fi tv girl.
Restaurant, Shanghai, like I said, I like Chinese food and I always order the same dish there.

Which hottie out there is to die for?
Those who know me knows this one, it is Richard Armitage, first there was
North and South
and no one does the brooding hottie better than him. Then there was
Robin Hood
, and oh man, that guy can wear leather!
The last awesome movie you've seen?
I have not seen an awesome movie in ages, it is a sad fact but it's the truth. The last film that was a bit cool was Avatar but it didn't make me go wohoo.

What is your idea of a romantic gesture from your sweetie?
I like the small things, an unexpected hug, a kiss, taking my hand, those kinds of things. Or when he buys me chocolate out of the blue.

Fascinating fact(s) about Finland?
It's is truly flat where I live, just green fields and forest everywhere you see. When we see a hill it's all ohhhhh a mountain! To the east we have a lot of lakes, and in the north we actually have a real mountain. The Arctic Circle crosses the country, so even though I live further south we do have midnight sun, and in the winter eternal darkness.

W have two official languages, Swedish and Finnish. Us Swedish speaking Finns tend to live at the coast. In the North we have the Saami population that speaks Saami (not an official language). And of course Santa Claus lives in Rovaniemi.

Nokia is Finnish, and the word Sauna. And we gave the Molotov Cocktails its name.

Oh and yes, we do have summer, sure it doesn't boil, but right now it's + 30 c. Summer and winter are alike. Sometimes it gets really hot like now, sometimes it gets really cold in the winter like -30 c. But mostly winters are cold when it's -20c these days. So no snow the year around (I sure hope no one thought that!) We do have all seasons, and some people have assumed there are polar bears here…yeah no.

How many languages to you speak and what are they?
I guess that most people assume I speak Finnish, but we actually have 2 official languages and I belong to the minority and speak Swedish. And I of course speak English and Finnish. I also speak a little German, understand a tiny bit of French, and thanks to Swedish I understand Norwegian and Danish.

What would people be surprised to learn about you?

That I really do not like school, still I have a MA in Swedish, this year I got my teaching qualifications, and right now I am studying to become a librarian (well information whatever, but I wanna be a librarian ;) Cos duh, I love books. And of course, that I speak Swedish and not Finnish.

Thanks for having me over!


Thank you Blodeuedd for being here today! I learned a lot and I'm always fascinated by people who love to read and who come from other places. Finland and its people obviously have a very special place in my heart, so I am so glad to know you and have you visit my blog. It's been lovely having you here as my guest :)
Labels: online friends, spotlight