Friday, July 16, 2010:

It's honey bunny time! I think most people would agree that if you know Bells, you adore her. Along with our mutual love of Supernatural (Dean!!!) and Gerard Butler, we have very similar taste in books. And we both love Nutella! LOL. And a mutual crush on J.A. Saare. She cracks me up how she'll tweet about wanting her hubby to leave the room so she can look at pictures of the hotties. Yeah I have a bit of a girl crush on my Bells, but then again, who wouldn't. Rock on, darlin' Bells :)


Stacy: Feel free to tell us about yourself: name, background, etc. Are you a reader/blogger/writer?

My name is Belinda aka Bells aka Bellie. I am a tired, overworked mother of 5. Yes I have included my husband as one of the kids because let's be honest, men really are. I'm currently a stay at home mom but I do have a part-time job. I work in a library and it can be very hard to not bring home all the books that pass my way. I am an avid reader of books (smut mostly) and I am a blogger. I still consider myself a newbie because I am still learning. I would love to write. But my mind just doesn't work like it used to.

Do you have a blog? What is the name/link and how would you describe your blog?
My blog is called
Hanging with Bells
.
I would describe my blog as a fun place to hang out. I mostly talk about books but I like to talk about a lot of different things.

What book(s) are you currently reading? Would you recommend it?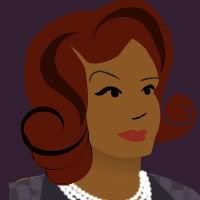 I just finished Unholy Magic by Stacia Kane recently and it was wonderful! It was very exciting. I would totally recommend it. I am currently reading Insatiable by Lauren Dane. I'm at the beginning of it so I can't really say too much about it. But the cover is lovely [It's HOT!]

What is your most anticipated soon to be released book?

Right now I am anxious to read Sin Undone by Larissa Ione. I have a feeling the book is going to be awesome!

What's playing nonstop on your iPod rotation right now?

Journey. I am in love with Steve Perry's voice. So right now I listen to a lot of Journey songs.

What are your favorite places to visit online?

Twitter. That should be obvious. lol. My favorite sites are
LaineyGossip.com
and
Dlisted.com
. They rock my world.

What are some of your favorite things: beverage? food? t.v. show?

Beverage: I love soda. But I try to limit it during the week. So I have been drinking a lot of water. My hubs and I are not big on drinking alcohol. Yes we are weird. We will have the occasional drink, but that's about it really.

Food: Since I'm PMS'ing right now I am craving beef and potatoes. So yeah, that's my favorite food right now. And chocolate.

t.v. show: I don't watch a lot of t.v. But my favorite shows are True Blood, Wipeout and Modern Family. I'm more of a movie watcher.

Which hottie out there is to die for?

Joe Manganiello!!! I am obsessed over him. He plays Alcide on True Blood. He is lovely. *dreamy sigh*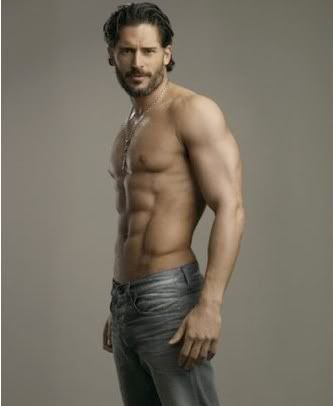 Favorite restaurant?

We don't really eat out a lot. We have 4 kids and we are broke most of the time because we have 3 boys to feed. Not to mention we would spend a lot for all of us.

What is your idea of a romantic gesture from your sweetie?

Taking the kids out so I can have some time to myself. Now you may be thinking how that is romantic. Well when a mom to 4 starts to go batty, she needs to be alone for a while.

What would people be surprised to learn about you?

Wow that's a hard question. I would say that I'm really shy and quiet at times. Yeah I know, hard to believe. lol. My answers sound extremely boring. lol Well I live a boring life. haha.

Anyone who knows her knows our Bells is NOT boring! WE LOVE YOU, HONEY BUNNY! Thank you for being my special guest, for being my Twitter friend and my honey bunny. You are fabulous just the way you are :)
Labels: online friends, spotlight