Thursday, July 08, 2010:
Once again I am excited to have another special guest willing to show up here and talk about themselves. I know Pam aka SpazP from Twitter, and I find her to be one of those amazingly interesting people who've done all kinds of cool things in their short lifetime, so yeah, I'm a little envious, but also really fascinated. Hey, I gots some really cool pals, and I'm happy to be able to share them with you all :) *And I really LOVE when my guests are chatty. That is awesome!*
Stacy: Feel free to tell us about yourself: name, background, etc. Are you a reader/blogger/writer?

I'm an only-child, born and raised in Miami FL. Growing up with my Mom working for Delta and my Dad a University Professor we traveled a LOT during the summers because they were both avid sight-seers. Since I spent a huge chunk of of time on a plane, train, bus, or the backseat of a car I read a lot as a child. My FAVORITE series as a kid was Chose Your Own Adventure! I dare say I had every single one that came out up to a certain age. I also did the Babysitters Club thing, loved Judy Blume, but then moved on to VC Andrews, and that was when I fell in love with dark smut. Those books were the first time I felt compelled to put the book down, look around, and make sure nobody could tell I was blushing (incidentally this is a common occurrence for me now).

I moved to Boulder, CO for college, graduated with a B.A. in both Sociology & Anthropology. My dreams were to go to John Jay College of Criminal Justice for a Masters in Forensic Psych, but after graduating in 4 years with 2 majors I was burrrned out with school. I ended up in Austin, TX with no job and didn't know a soul. Since I did less-fun reading through High School and College (gag me with the textbooks, non-fiction & literature requirements!), I hit the bookstores once again and picked up Laurell K Hamilton's Anita Blake series in '99. I haven't been able to put down Fiction since.

And here I am still in ATX with my husband and 2 rescue mutts. I like to stay pretty active. I love to run, cycle, lift weights and take the dogs swimming. But in my downtime I LOVE TO READ. I will read anything Paranormal Romance or Urban Fantasy. I have branched out lately to other genres thanks to my favorite book bloggers' recommendations, but I always come back to UF (the darker the better) and PNR (I love Happily Ever Afters, especially if they are somewhat twisted).

Stacy: Do you have a blog? What is the name/link and how would you describe your blog?

I am the Robin to Wicked Lil Pixie's Batgirl. You must check out Natasha's blog at Wicked Lil Pixie where she reviews paranormal romance and urban fantasy, along with other really good nuggets of interest posts. I am currently doing book reviews for her, and one thing I can say is that it's hard reviewing books, ya'll! I don't keep my own blog due to time restraints, so it's nice to be able to contribute to WLP. Additionally, I feel I have nothing new or original to say that isn't covered by someone else, so I just post on Twitter what I think everyone needs to know! I like to be the Town Crier, it suits me.

I am SpazP on Twitter and I mostly tweet about books, animal rescue, celebrity gossip, races/athletic events, and other stuff going on around Austin. I do quite a bit of crap-talking too ;)

What book(s) are you currently reading? Would you recommend it?

I have three books in my nail-bitten hands right now.
Unholy Magic, Stacia Kane (Downside Ghosts #2). If you are not reading this series, what are you waiting for?!
I also won an ARC of Sin Undone (Demonica #5) by Larissa Ione which I cannot freaking wait to start.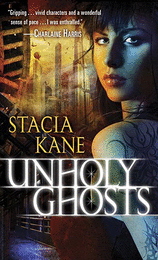 I am also reading Gini Koch's Touched By An Alien and love it. I usually go for darker stories and this one is really funny and clever.

What is your most anticipated soon to be released book?

Oh shoot, I can't narrow it down to one book, this is where I get REALLY excited. This year has been insane with the releases. Lover Mine (Black Dagger Brotherhood #8), Silver Borne (Mercy Thompson #5) and Magic Bleeds (Kate Daniels #4) were the big ones for me this year so far. I am EAGERLY awaiting:
Eternal Kiss of Darkness (Night Huntress World #2) by Jeaniene Frost,
City of Ghosts (Downside Ghosts #3) by Stacia Kane,
No Mercy (Dark-Hunters #18) by Sherrilyn Kenyon,
Demon From The Dark (Immortals After Dark #7) by Kresley Cole,
Venom (Elemental Assassin #3) by Jennifer Estep,
Crave (Fallen Angels #2) by JR Ward,
aaaand the BIG one: SHADOWFEVER by Karen Marie Moning even if it's been pushed to January 2011 now (BOOO!)

What's playing nonstop on your iPod rotation right now?

Broken Bells and Beach House's Teen Dream got me through the Riley Jenson series by Keri Arthur. I just finished all 9 books AND LOVED the series. Neko Case is my all-time favorite singer and song-writer. I am never not in a mood to listen to her and sing with her. I have a soul-deep love and appreciation for her song-writing and singing.

What are your favorite places to visit online?



Michael K at D-Listed

*he is definitely not PG but is one of the funniest snarkiest crass gossip blog writers EVER),


Sephora

: I have a wicked obsession with makeup and fragrances


Goodreads

: My TBR pile has tripled since joining this site


io9:

All the latest and greatest science fiction news


Jezebel

: Best pop culture blog EVER


Livestrong's Daily Plate

: I religiously keep a food journal :).


Smexybooks

: Mandi (and Tori!) keep me uptodate on new release reviews


Smokinhotbooks

: KC makes me laugh, and has broadened by Smut collection


FictionVixen

: love the reviews, and has one of the funniest BDB Fan Fiction picture-stories ever


Active.com

: Love the articles and tips for staying fit

What are some of your favorite things: beverage? food? t.v. show?

Oh did I mention that I love TV too? My favorite comedy is Cougar Town, that show cracks me upppp every episode. My other favorite TV Shows are Dexter and Weeds. I also ::whispers:: I love The Real Housewives on Bravo, all cities! Shhhh.

Which hottie out there is to die for?

I have to say that the one actor right now that makes me blush and get giggly is Joe Manganiello who is currently starring as Alcide on True Blood. He is a walking hunk of MAN.

Favorite restaurant?

I love interior Mexican food, and Tex-Mex. My favorite place to eat in Austin is called Polvo's and it's on South 1st Street here in ATX.

What is your idea of a romantic gesture from your sweetie?

My hubby is not a big "let's go for a walk!" person, so for me it's always a treat when he agrees to walk the dogs with me :) I don't need to be wined and dined, it's the little things that are the most meaningful gestures of all.

What would people be surprised to learn about you?

- I have traveled extensively, 22 countries and counting.
- I worked for the Boulder CO Juvenile Center as a college intern and it was quite an experience.
- Very active in dog rescue volunteering and promoting the Spay & Neuter cause in Austin.
- I love dance music. LOVE. Listen to it casually way more than I'd like to admit.
- I have Finished the Austin Triathlon, run 3 Half Marathons, and went on to raise over $1200 for Blue Dog Rescue (bluedogrescue.com) in sponsorships by running my first full Marathon this year.
- I would like to do the Hawaii Half Ironman in Kona before turning 40 (that gives me 7 years to prep!).

What's the last great movie you saw?

I didn't expect to love Kick-Ass as much as I did :)
Is Pam tres cool or what?! I am so going to check out the Stacia Kane series, and check out some of Neko Case's music. Thank you Pam, for being here today. It was A LOT of fun! :D
Labels: online friends, spotlight