Thursday, July 29, 2010:
I haven't known Marq for very long, but I really like her strong personality and her definite opinions. She is someone I met on Twitter, and now that I've finally got her Twitter handle all figured out *g*, I'm enjoying following her tweets. I also like her blog, and the bright, brilliant color. To me, that represents how she is - bold and colorful. And now here's your chance to get to know her yourself :)
Stacy: Feel free to tell us about yourself: name, background, etc. Are you a reader/blogger/writer?

My name is Marquetta. I go by Marq (sounds like Mark) online to make my life easier. LOL! It's not easy having a name that has "Q" in it. People don't know what to do with it! I'm an underpaid, over-worked WOTHM (Work Outside The Home Mom). I envy women who stay at home. I feel like being out in the work force is over-rated! I'm married and have an 11 yr old son. My husband has his own business so I'm basically a single parent right now which increases my already high stress level. But thanks to my bloggy friends and twitter, I manage to keep myself a little sane. I am a blogger and I love it. I consider that my 3rd job. LOL!

Do you have a blog? What is the name/link and how would you describe your blog?
The name of my blog is
Love To Read For Fun
. I wanted to think of a title that reflected my love of reading. I'm not sure if I like the title but I'm going to stick with it for now. It has worked well for 8 months and no one has complained! My blog is a reflection of what I like to read which is mainly romance. I sometimes blog about things that interest me, like TV shows. A couple of months ago I wrote a post about my top 5 favorite Buffy episodes. I loved writing that post and hope to write similar posts in the future.
What book(s) are you currently reading? Would you recommend it?
I just finished reading Comfort Food by Kitty Thomas. It's an erotic, BDSM novel with a spin. I would definitely recommend it. I'm still trying to wrap my head around it.

What is your most anticipated soon to be released book?
I am definitely on pins and needles waiting for Shadowfever, the final book in the Fever series by Karen Moning. The book isn't coming out until January 18, 2011 but I'm already making plans to take that day off! I'm also looking forward to Sin Undone by Larissa Ione and Taken by Midnight by Lara Adrian.
What's playing nonstop on your iPod rotation right now?
The Glee Music soundtrack. I absolutely love that show! Every episode had great music. Whenever I listen to it, it puts me in a great mood. And considering how hectic life has been this summer, I have all 5 albums on heavy rotation.
What are your favorite places to visit online?
I love twitter (does that count?) and I love Amazon.com so that I can constantly tempt myself with book buying. And as much of a douche as he is, I visit Perez Hilton's website daily.

What are some of your favorite things: beverage? food? t.v. show?
My favorite beverage – I don't really have one. I don't drink sodas. I've had to cut back on my alcohol consumption because it's now yet another thing that triggers my migraines. Right now I'm all about drinking water and having the occasional beer – Land Shark. As for food, I'm from Memphis and we are known for our BBQ so for me, anything cooked on the grill with barbecue sauce is my favorite food! I haven't been watching as much TV as I have in the past. I've become very selective with what TV shows I decide to devote my time to. My favorites are Glee, True Blood and Modern Family. And my super, secret guilty pleasure is The Real Housewives shows on Bravo. They are hilarious and complete train wrecks!
Which hottie out there is to die for?
I make no secret of who I am lusting after. I think all my twitter friends are aware that I have a major boner for Mehcad Brooks. When I saw him on True Blood last season I fell in love. He's had a long acting career and I remember seeing him in movies and other shows. But I didn't really notice him until True Blood. Maybe because he was shirtless a lot. R.I.P. Eggs. :(

I also love Matthew Morrison (Mr. Schuester) from Glee. He's doesn't have the smoking hot sexiness of Mehcad but there's something about him that I find incredibly sexy.

Favorite restaurant?
I love sushi so my favorite restaurant is Asian Bistro. I could eat there a couple of times a week. If it was closer to my house and I was rich, I probably would eat there several times a week!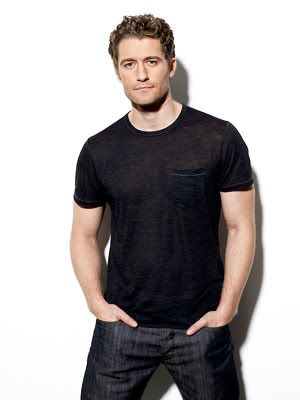 What is your idea of a romantic gesture from your sweetie?

I'm materialistic. LOL! I doubt many women would readily admit it. But there's no shame in my game. I'm also a techno geek so for me a romantic gesture would be getting me the latest electronic gadget *cough* iPad *cough*.
What would people be surprised to learn about you?
Even though it may not seem like it on twitter but I'm very closed off. I am not a friendly person when you first meet me. I don't open up to people easily. I think it comes from moving a lot when I was little (military brat). People mistake it for shyness but what I'm really doing is checking you out, trying to decide if getting to know you is worth the effort.
Well, there you have it! *g* Thank you Marq, for being my guest today. It's been great fun, and I love how you have definite opinions and don't have a problem sharing them. Definitely makes things more interesting :)
Labels: online friends, spotlight