Thursday, October 01, 2009: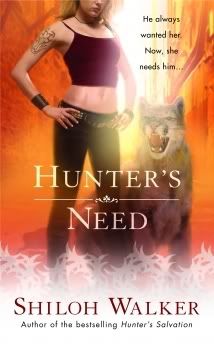 Some of you may not know this about me, but I proudly stalk Shiloh Walker. I'm not ashamed of it because as far as I'm concerned, her books are just THAT good. I am completely hooked on her Hunters series, and they just keep getting better and better.
And in the interest of full disclosure, Shiloh is totally aware of my stalker tendencies, but she still puts up with me anyway *g* Even going so far as to pose for pictures as she did back in June. I guess I don't scare her much, which is probably a very good thing.
Now I just love the title of her latest Hunter book - "Hunter's Need". Because that is what my post is all about: need. I NEED to have "Hunter's Need". Not just "I would like to have", not "I should get", not even I want this book. No, it's all about NEED.
Why do I NEED this book? Well, why the hell not? This series completely rocks. Shi writes with a style that totally appeals to me as a reader. The stories are engrossing and emotional, peppered with amazing characters - each having their own distinctive voice - who struggle with real issues while dealng extraordinary abilities that they don't always have a handle on.
Shiloh has an incredibly vivid imagnation, and it shows in her stories, whether it's a straight-up contemporary, a historical with paranormal tendencies, or her Hunter series. The last one I read, "Fragile", was so moving, very character-driven. She gets you so caught up in the story that you forget for awhile that it's not real, at least not any place I've ever been to.
Here is just a taste of what I NEED to have.....
* * * * *
HIS CHALLENGE
Duke is bitter. A shapeshifter betrayed by the psychic powers of Analise Morell, he cannot forgive her for putting him in the clutches of a feral vampire, but he also can't shake his desire for her. And when she needs a Hunter, Duke must face his demons—and hers…
HER MISSION
Desperate voices are battering Ana's psychic shields. A serial killer with extraordinary powers is about to strike again, and the tormented souls of his previous victims are screaming for her help. But Ana can't understand why they want her…
Their INSATIABLE desire
After what she did to him, Ana is sure Duke must be using her…but if he is, so be it. Ana can't fight her longing for him, can't fight the desire that's haunted her for years. For Duke, every fiber of his soul—both the man and the cougar within—yearns to protect and possess her.…
* * * * *

Labels: contest, Shiloh Walker