Tuesday, September 22, 2009: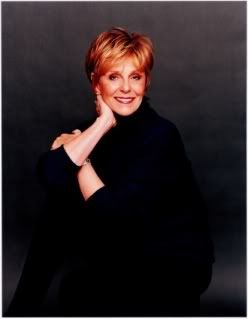 Judith McNaught
, to me, is an icon. My very first all-time favorite author. Say what you will about her writer's block or that you hate Whitney and/or Clayton with a passion; that's your prerogative. For me, reading "Almost Heaven" years ago as a young teen cemented her place in my heart.
I think of some of Ms. McNaught's books, especially "Whitney, My Love", as old-school lite. Not quite as misogynistic as some of the classics from the 70's, but having hints of the ugliness that was so prevalent back in the day. But the one thing that she encapsulated that a lot of authors back then didn't was that incredibly emotional moment between the hero and the heroine where love was declared, apologies were made, and an appropriate amount of groveling was displayed to pacify any outrage on our part.
When I got to the end of "Almost Heaven" and that moving scene between Elizabeth & Ian where they declare their love and finally believe the other feels the same way, why, it's positively lovely. And this was only the first of several Judith McNaught books I fell in love with.
There's "Once And Always", where Victoria finally breaks through to Jason when she kisses his scars, and when he believes her dead, how he'd rather be mad and have her haunt him for the rest of his days that imagine living without her. Or probably most people's favorite, "Something Wonderful", where a fiercely optimistic and loyal tomboy manages to make the very jaded and cynical Jordan fall madly and hopelessly in love.
There are several others of her books that I adored, but it's always been her historicals that I loved best. I even enjoyed "Until You", a book that makes a lot of people gag. And come on, who wasn't outraged that Nicky DuVille was robbed of a perfectly magnificent love story when he was relegated to anthology status in "A Holiday of Love"?????? Probably one of the few times I was severely disappointed by Ms. McNaught. And don't even get me started on "Tender Triumph".
But despite that, and a few other issues, Ms. McNaught is still on the list of my 3 all-time favorite authors. She made romances really come alive for me, and I credit her for nurturing that love with her touching, emotional and passionate stories. I wouldn't trade that experience for anything in the world. And I will say this: there are not many authors who can elicit a response out of me like Ms. McNaught can. Say what you will, but until you've felt that strongly about a book, you have no idea what you're missing.
So thank you, Judith McNaught, for all the hours of readng pleasure I've experienced over the years, and wherever you are, I hope one day you bring us back to those days of unforgettable historical romance that only you can write about....(hey, a girl can dream, right?)
Have you read a McNaught story?
What's your most memorable experience about her books?
Labels: Judith McNaught