Friday, September 11, 2009: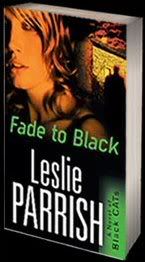 Today I'm really excited to be giving away not just one book, or even two books, but all three books in the impressive Black CAT series by Leslie Parrish. I've really enjoyed these books, and I'm hoping that Leslie will continue to write more, as there are other characters I'm dying to find out more about (i.e. Brandon!)
Since it's a bigger giveaway, of course I'm going to be mean and make it a bit more difficult to win. It's not hard, I promise. ANYONE is eligible to partipate, as long as they can receive mail.

All questions asked must be answered, otherwise the entry will not be included in the random drawing.

The contest will run now until noon CST on Sunday, September 20th, when I intend to announce a winner, or thereabouts.
Soooo, are you ready? Good, because so am I! It's not hard, I promise.
1. Leslie and her family love Halloween, so my question is: what is your favorite thing about Halloween? Or if you don't like Halloween, what is your favorite holiday?
2. The Black CAT books are categorized as romantic suspense. Who is your favorite romantic suspense author?
3. The Black CAT group deals with solving internet crimes. What is your favorite thing to do on the internet? (blogging, twitter, Facebook, Google, etc.)
4. Leslie loves scary movies. Do you like scary movies? Optional question: what was the first scary movie you watched?

5. Leslie started reading romances when she was around 12 years old. How old were you when you read your first adult romance and what was the name of it?

6. Leslie names her husband as her inspiration for a romantic hero. Who's YOUR inspiration for a romantic hero?
7. Some of Leslie's guilty pleasures are Nacho Cheese Doritos and diet Coke. What are some of your guilty pleasures?
Okay, that's it! See, not so bad LOL. Please be sure to answer all 7 questions to be eligible for the random drawing. Please DO NOT include your email address in your response. Thank you for stopping by!
Good luck!
Labels: contest, Leslie Parrish