Sunday, September 06, 2009: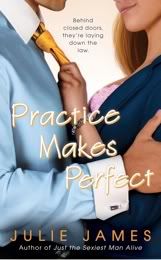 The winner of Julie's book is...
Congrats Lori :) Please email me your snail mail addy to
trelainastarblazer @ yahoo dot com
and I'll try to mail it out this week. Since that means an actual
drive to the post office, I can't promise immediate results LOL.
Thank you to everyone else who stopped by. LOVED your answers. As for what I notice? I'm partial to melting brown eyes and a sexy smile. However a guy that can make me laugh is really attractive, and looks often become less important once you find someone who has a great sense of humor.
Just so ya know, I plan on having another really fun contest coming up, so feel free to visit again :)
From Random.org
:
18. Lori T.
6. Erin
28. heatherzilla
3. jcp
12. Minna
19. Karen W.
11. Emmanuelle
1. Pearl
23. mindy
14. Estella
22. heidenkind
26. Tiffany819
16. Dottie
27. quiltingreader
24. DCMetroreader
21. Maija P.
15. Marissa
2. Leontine
10. elaing8
20. Cheryl C.
4. Liza
25. Sarah Z.
7. Patti
9. Wanda
5. Amy M.
17. I Heart Book Gossip
13. chey
8. Lori
Labels: winner