Friday, August 28, 2009: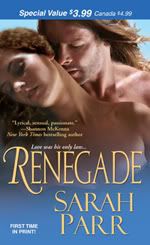 Oh how I love contests, and what a coincidence; today I'm having one. What fun :)
All you have to do is answer the following question and you'll be entered in the random drawing:
If you could be stranded anywhere, ANYWHERE in the world for a month, where would it be and who would it be with?
All are welcome to enter the contest to win a copy of Sarah's latest release, RENEGADE. It doesn't matter where you live, as long as you can receive mail. Contest ends Sunday, August 30th @ 5pm CST and a winner will be announced soon after. Please DO NOT leave your email address in your response as it is the winner's responsibility to contact me via email within 1 week of announcement. If no one has come forth, another winner will be drawn.
Also, anyone who leaves a comment in the previous post - Sarah's interview - will be included 1 additional time in the drawing. So please, go forth and enter :)
GOOD LUCK!
Labels: contest, Sarah Parr