Tuesday, August 25, 2009: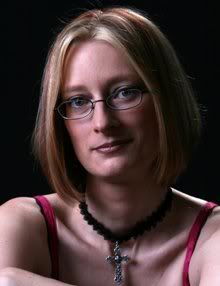 My first experience reading anything by Ms. Ione was when I picked up the first
Sydney Croft
book a few years ago; It was Riding The Storm, and wow, was it scorching hot and completely intriguing. I then immediately got the second book and that one was even more intense. Incredible powers meshed with sexual need is definitely an explosive combination. Break out the ice cubes and crank up the a.c. for these reads. They are on fire!
Later I kept hearing all these great things about
Larissa Ione
's Demonica series, so of course, being the follower that I am, easily influenced by outside forces, I picked up a copy of the first book, Pleasure Unbound, and thought it was okay. But then at another time, when I was more in the mood for a demonic possession, I re-read it, and totally GOT it. Larissa had created an incredibly absorbing world of demons and torment. I was captivated by the main characters and definitely clamoring for more, so of course I got the next 2 books in the series. You can't go wrong with a nice, hot demon ;)
I had the pleasure of meeting Larissa at RWA in San Francisco in 2008, and she was so friendly and interesting and made me feel so comfortable, as if all the gushing didn't freak her out a little. She's so nice that she introduced me to the author sitting next to her as a way of introducing that writer's work to others. How cool is that? Definitely very classy.
Larissa has since become one of those auto-buy authors for me, and I'm checking out her site now as I type this, anxious for the next writing installment. Something tells me I definitely want to be Snow Bound ;)
Have you discovered Larissa's books?
Do you have a favorite demon?
Labels: Larissa Ione, spotlight