Wednesday, August 19, 2009:
So there's this crazy idea out there some people have that actor Ryan Reynolds is the inspiration behind Julie James' hero in her release, "Practice Makes Perfect". Ryan Reynolds! Can you believe it? No, me either. To me, Ryan is the goofball med student from "Two Guys, A Girl And A Pizza Place" (later just "Two Guys And A Girl"), or National Lampoon's "Van Wilder", which I admit I've never seen but can imagine it quite well. Classic cinema right there, I'm telling ya. (Nostalgic moment: watching Berg (RR) being dominated by Pete's virginal stalker Irene. Good stuff...)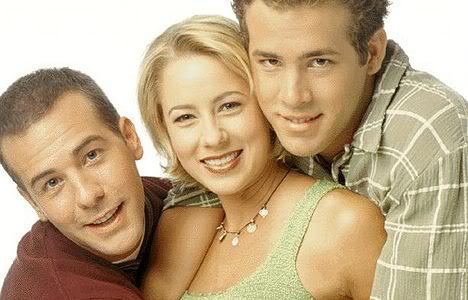 So Katiebabs, our favorite eccentric redhead, stands behind her claim, and I believe so does the author, Julie James, who up until that moment, seemed rather clever and level-headed. Now I'm seriously questioning her judgment, because yet having seen "Definitely, Maybe", "Wolverine", and even "The Proposal", I was still not convinced of Ryan's worthiness.
However Miss Julie is offering up "Blade: Trinity" as her proof of the wonder that is Ryan. I've been warned that the movie is pretty bad (no surprise there) but to pay especially close attention to his abs, particularly, as Katiebabs insists, during his stint as Parker Posey's bitch. She believes this will be her winning argument in the ongoing debate. But first off: Hannibal King??? Really?!
I don't know, folks. As I'm watching, definitely do I see RR's trademark smartass charm, but I'm thinking that even that isn't enough to woo me. Case in point: "I ate a lot of garlic, and I just farted. Silent but deadly." Funny but not sexy talk. Now if Parker had managed to rips his pants off, I have a feeling I would have had a much different reaction. I think the makers of this film missed a golden opportunity by not having the movie further investigate the tattoo located in the near nether region of RR's body. There was obviously an important key element of the story missing because of such neglect. Personally, I feel like I was deprived of privileged information - we were robbed!
Verdict: Despite all the evidence, despite the sweet, lingering perusal of the muscular physique of one yummy Ryan Reynolds, despite the charisma and the humor and the winning smile, I stand by my original decision: Ryan Reynolds is not and never will be J.D. Jameson. Yeah, sure, he's the original creation of Ms. Julie James, author tres extraordinaire, and technically I guess she calls the shots here, but as a reader, I claim a tiny piece of him (obviously not THAT piece because it better not be tiny - besides it would have already been claimed by Katiebabs, or perhaps KingMhoFho, no doubt). So the search for the perfect J.D. Jameson lives on....case dismissed.
Who is YOUR J.D.?
(a.k.a. anyone else but Ryan Reynolds!)
What's the worst movie you've ever seen just to watch
a certain hot actor appear in it?
Who was it and was it worth the pain?
Labels: Julie James, Ryan Reynolds