Tuesday, August 11, 2009: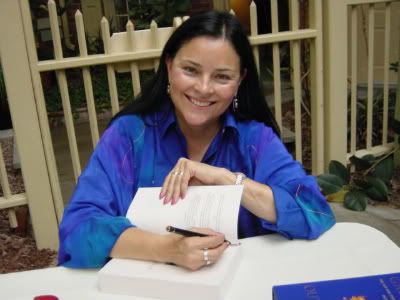 You always remember your first. For me, it was Diana Gabaldon. The very first author I had ever met in person. I remember talking about her Outlander series with my co-worker, and was beyond thrilled(!) to discover she was also a fan. Somehow we found out she was going to be in town for a booksigning, so we decided to go.
I remember how excited we were, giddy almost. For a die-hard reader, meeting a person who has written a piece of literature - in this case what I would consider to be of epic proportions - that has wrung the strongest of emotions out of you on nearly every page, well, it was a chance of a lifetime.
Knowing what I know now, it seems rather silly, but at the time, we were nervous. Standing in line, waiting for the signing to start, was a strange agony, until this tiny woman with long dark hair walked by right where we were standing. It was Diana Gabaldon, and the mood was electric. The fun was about to begin.
Before the signing, Diana took some time to chat with the crowd, to read a passage from her latest release, and basically enchant the crowd. She was very charismatic, very aware that we all suffered from serious Jamie Fraser love, and patiently indulged us all.
Meeting Diana was amazing. She was sweet and funny and made my first booksigning a memorable experience. Painless, fun, exciting, and highly recommended.
Back to my Jamie love comment. It's true, while Claire was a strong, brave, independent, pragmatic woman, she was not the heart of the series. A part of me felt too distanced from her, and while her personality is what helped her survive her ordeal, it also made it difficult to warm up to here. It was Jamie that "made" the series. Jamie, who loved his Claire unhesitantly and is an unrivaled hero. When it comes to Jamie, there really is no comparison. He's in a category all of his own. It's not fair to pit anyone else against him because really, he wins.
But, despite all that, I've only been able to read up to "The Fiery Cross" (hanging head in shame). I feel awful, and though I have it, I haven't been able to pick it up again. I think I'm just to remember the love I had for the first 4 books, and die happy because of it.
Have you read Diana Gabaldon's series?
Does Jamie rock your world, and who should play him in the movie?
Who was the first author you ever met?
Labels: Diana Gabaldon