Monday, August 10, 2009:
This weekend was a relaxing one, where I beat the heat by staying indoors (mostly) and watching some movies I'd not seen before, and reading some good books. It was all about romance...other people's of course LOL.
Here's my movie roundup:
From Booksamillion.com:
RETURN TO ME: A charming romantic comedy about finding love in the most ironic--and unlikely--of places. Bob Rueland (David Duchovny) is mourning the tragic loss of his wife, who nobly agreed to donate her heart to a needy recipient. When he meets Grace Briggs (Minnie Driver), little does he realize that she's the recipient! Eventually, the truth comes out, and Bob must decide for himself which heart it is his heart wants to follow.
I can't believe I've never watched this one before, considering I'm a long-time David Duchovny fan (sex scandals nonwithstanding) as well as the fact this was filmed in Chicago. So it arrived on Friday and I watched it Sunday. Very sweet without being sarcastic about it. I liked that.
David plays Bob (though it's hard to think of him as a Bob), who lost his wife Elizabeth. We actually meet her in the beginning of the film and see what an amazing woman she is. A year later he decides to start dating again but the woman he goes to dinner with is not the one he ends up noticing. Instead he's drawn to their waitress, and after a bit of hesitation, awhile later he asks her out. The two begin to fall in love when they realize that Grace's heart is the one belonging to his late wife. I liked that they were both gun-shy, and watching them genuinely falling for each other was lovely. It wasn't all fireworks and grand gestures, but rather conversations and holding hands. That really appealed to me. Wish they made a few more romances that concentrated more on the couple than outside circumstances. Anyway if you haven't seen it, I think you should.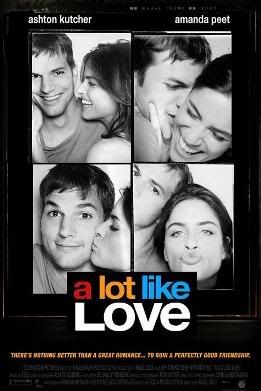 From Booksamillion.com
From British director Nigel Cole, whose sweet-hearted comedies CALENDAR GIRLS and SAVING GRACE shared a similar combination of humor and true emotion, A LOT LIKE LOVE is the story of two friends who seem destined to love each other--if they can ever realize that themselves. Meeting on a flight from Los Angeles to New York, naive Oliver (Ashton Kutcher) and tough Emily (Amanda Peet) have sex in an airplane lavatory before learning each other's names. Despite this intimate introduction, Emily is uninterested in getting to know the guy she just picked up, telling Oliver frankly that he's not her type. The two part ways, but end up running into each other hours later in what proves to be just the first of many semi-coincidental romantic encounters. After spending a fun day together in the city, Oliver gives Emily his home number and tells her to call him in 6 years, once he's gotten his life and career figured out. When an unforeseen breakup leaves Emily dateless for New Year's Eve a few years later, she calls Oliver and they meet again. In the years that have passed since their first meeting, Emily has taken up acting, Oliver has started an online diaper-selling business, and both have gotten more flattering haircuts. But Emily is disappointed to learn that Oliver is moving to San Francisco for business the next day. Over the course of a few years, Emily and Oliver grow to depend on each other in times of crisis, and develop a solid friendship. While each sporadic encounter contains an undeniable spark, the timing never seems to be right, with several bad relationships, career transitions, and location changes getting in the way. But will the pair realize their feelings for each other and get together before it's too late?
I'd seen the preview for this movie a few times, and thought it looked interesting enough to watch, so did, though the appeal of Ashton Kutcher usually escapes me. I thought he was good in "The Guardian" with Kevin Costner, but overall I don't see it. And in this movie when he goes into the airplane bathroom and Amanda Peet follows him in there, I seriously have to question her sanity. He looks like a 17-year-old skateboarder, and a dorky one at that.
The movie was alright, nothing earth-shattering. Ashton & Amanda were cute together, had lots of chemistry, same sense of humor. Realized 7 years later they were in love and finally on the same page. Hoorah. Life is good.
Is it just me, or does it seem they don't make really good
romantic comedies anymore?
You know, the kind that tug at your heartstrings.
Or do they and I've been missing out?
Labels: movies