Tuesday, August 04, 2009: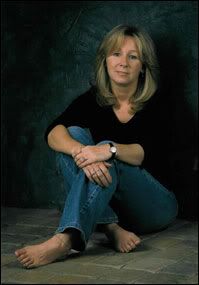 When I took my first ride on the information highway, I was a complete in need of a WWW for Dummies guidebook. I hadn't a clue as to what to do, but eventually I figured it out. One of the first things I did was find some of the websites of my favorite authors, and was quickly steered towards Yahoo groups (which were actually called something else back then but now they are just groups). Among the first that I joined was Lori Foster's BookJunkys group. I was nervous, because none of my friends read romance, so I figured I wouldn't know what to say at a Yahoo group. Once there, I realized wow, lots of people love romance novels. What a revelation.
Lori's books are amongst my comfort reads. I love her incredibly masculine, alpha heroes. Sam from "My House, My Rules". Bram from "Luring Lucy". Joe from "Say No to Joe?" And a multitude of others. Not to mention Jamie from the Visitation series. I love her unique families, her down-to-earth characters, the sexy, earthy love scenes. She doesn't write complex stories, and sometimes the stories are way too predictable, but at the same time, that's what I enjoy most about them. I know what I'm getting from a Lori Foster book...even when it's a time travel.
After a few years, I was brave enough to go to RAD (Romance Appreciation Day) in Ohio, back in February 2005. Later that year, Lori Foster co-hosted the first annual
Reader/Author Get-Together
. This year was the 5th annual event, and I've gone every year. I've met Lori and spoken to her numerous times, and love how personable and charming she is, and she's such a recognizable name in the business. She's been instrumental in helping several authors getting their start, and the get-togethers are always centered around supporting at least one charity, including the battered women's shelter, pet adoption, the troops, and numerous other organizations she believes in.
I would have to say that with all her numerous stories, out of her full-length books, there are two that I would probably consider my favorites, both from the Visitation series. There's "When Bruce Met Cyn", because it deals with a preacher falling in love with a former prostitute. It's really a wonderful story, and I loved both characters, but especially how tough and resilient and caring Cyn is. The other would be "Jamie", because Jamie was a character that stuck with me from the time I first met him earlier in the series to long past his own story. "My House, My Rules" and "Luring Lucy" are my favorite novellas. Sam and Bram (heh) are two of her sexiest heroes, imho. Why choose?
Have you been to the get-together?
Labels: Lori Foster, spotlight