Monday, July 27, 2009:
The battle of the sexes heats up in Columbia Pictures' comedy The Ugly Truth. Abby Richter (Katherine Heigl) is a romantically challenged morning show producer whose search for Mr. Perfect has left her hopelessly single. She's in for a rude awakening when her bosses team her with Mike Chadway (Gerard Butler), a hardcore TV personality who promises to spill the ugly truth on what makes men and women tick. --© Sony Pictures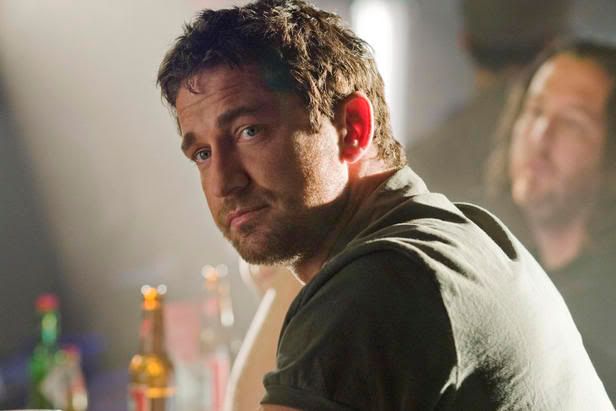 This movie doesn't reveal anything new about romantic comedies - there's still the stereotypical uptight heroine, the slightly smarmy, gorgeous hero who smirks at the heroine and always manages to put her in her place, and the lame scenario that inevitably throws them together so they are forced to spend copious time either working with each other or against each other for a common goal, i.e. competing for a promotion, forced to work on the same team, needing to get married to stay in the country...
However one thing this movie has that a lot of others don't is actual, intentional humor. Raunchy, honest, no-holds-barred humor. Sure, Mike Chadway is the predictable, crass male chauvinist whose rude and and raw beliefs garner him quite a following, which leads him to network televison, and Abby Richter is the detail-oriented, list-obsessed anal producer who is forced to work with Mike. But they are so fun to watch that even the sexist comments and crude behavior aren't as offensive as you'd expect. When she meets a potential candidate who fits the criteria on her list for the perfect mate, she ends up realizing that maybe there is some merit to what Mike has to say, and he begins to give her lessons on attracting - and keeping - the man of her dreams. Of course all this time together predictably ends in them falling in love, but not without some obstacle (i.e. Abby's dream man) or another (Mike's fear of commitment). And there is the grand gesture of someone declaring their feelings. The inevitable climax occurs, and another romantic comedy is in the bag.
Okay, with my blind lust of Gerard Butler, there's not much wrong he could have done here. There were moments that he was a complete pig who only dated women wearing bikinis who wrestled in jello, but what can I say? I really liked him in the movie, and I liked Katherine Heigl as well, even if I'm not sure I like her very much in real life, but she's damn good in these movies (i.e. "Knocked Up"), and it takes balls to put herself in some of these situations. Together they had enough chemistry to light San Francisco, and the scene in the restaurant with the vibrating panties was bloody hilarious. Even my friend Liz, who hated "Something About Mary" with a passion because of what she calls its nasty humor, loved this movie, and believe me, that's sayin' something.
So will I be buying this on DVD? Hello? Haven't you been listening? Gerard?? You betcha I will! It's better than "The Proposal", and I thought that was cute, but this one was full of suggestive, dirty, sexy humor and laugh-out-loud goodness. Totally works for me.
Rating: **** out of *****
Have you seen it?
If so, did you like it? If not, do you want to?
Labels: Gerard Butler, movies