Friday, July 24, 2009:
Okay, I'll admit it. I've had a bit of a crush on Robert Downey Jr. ever since I saw him in "The Pick-Up Artist" alongside Molly Ringwald back in 1987. Robert portrayed Jack Jericho, a teacher and rather adorable womanizer who ends up meeting his match and for the first time ever, falls in love. As Jack, RDJ was funny and persistent and charming, but back then he had this space between his teeth that was rather distracting, so I wasn't completely enamored with his looks. I am so superficial that way. But he did catch my eye, even then.

It was actually when I saw him in "Less Than Zero" that I had that "wow" moment. In the movie, he was Julian...something or another, a wealthy drug addict who has such a serious habit that he owes his dealer a lot of money, and said dealer forces Julian to become a prostitute to pay for his habit. You got it. True hero material. But it cemented my thing for him, as totally inappropriate and unexplainable as it was. There was just some dangerous, heartbreaking quality that I was all melty for, maybe it was that sense that he was going along full speed ahead, about ready to crash and burn into a very hard and unforgiving brick wall, yet he was having the most incredible time while at it. RDJ loved the drugs. He was in a long-term relationship with Sarah Jessica Parker back then, but even that wasn't enough to get him to stop using. It took almost 2 decades.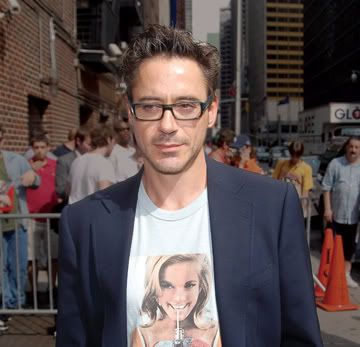 RDJ has an incredible and various of projects, most of which I haven't seen, if you can believe it. However there are some I did actually watch. There's "Johnny Be Good", and "Air America" with Mel Gibson. "Chances Are" with Cybil Shepherd. "Soap Dish" with a bunch of people. And of course "Chaplin". I watched "Wonder Boys" and he was probably the best reason to see it, imho. And a lot of movies I never saw...until "
Iron Man
". Oh and there was the Elton John video, and his appearance on "Ally McBeal", a show I didn't care much for but usually would watch when he was on. He definitely has that ability to draw me in.
***
RDJ has come a loooong from those days of drug abuse and dating Sarah Jessica Parker. Now he's in a new movie, "
Sherlock Holmes
", set for release Christmas Day. He plays the main character in a movie I don't know if I want to see other than the fact he's in it. Because regardless of what he's done in his personal life, I think he's an amazing actor. Perhaps based on the decadent nature of the film, you can tell RDJ's hard-living ways have caught up with him, see it in the baggy eyes, the lines on his face, that smoker's voice, and I still get the vague impression that he's one step away from picking up a crack pipe. He's just got that edge to him, and I remember reading articles where he talked about how much he loved doing drugs. As he told a judge back in 1999, "It's like I have a loaded gun in my mouth and my finger's on the trigger, and I like the taste of the gunmetal."
However I have always loved Robert Downey Jr., and I was so thrilled by his role in "Iron Man" last year. He was just amazing as Tony Stark, the incredibly sexy gazillionaire turned super hero, and I can't wait to see "
Iron Man 2
". I'm hoping things turn out just as well for him in real life. Here's to happy endings.
Here's to Robert Downey Jr, one of my all-time favorite bad boys.
Who's yours?

Labels: Bad Boys, Robert Downey Jr