Thursday, July 30, 2009:
Hello all my little lovelies, thank you so much for stopping by. Today I have with us a guest, the multi-talented and very busy Jenna Petersen, or in some circles, Jess Michaels. I have been a fan since I read her JM story "Ancient Pleasures" in a Secrets volume a few years ago, and now I am seriously hooked on her erotic romances. But she also writes some great stories as JP. I have been fortunate to meet up with Jenna twice now, and she's a total sweetheart. I love knowing she's not that far away from where I live - within the same state! - so it would be awesome to catch her at another booksigning in the near future.
But it wasn't until I read "Taboo" that I decided to find out if I was lucky enough to get her on my blog. Guess what? I am! This is one of the Jess Michaels' books, very sexy but also one that strongly concentrates on the relationship of these two characters.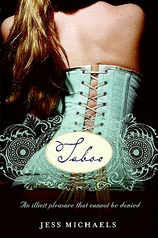 I enjoyed it immensely . So much so that I decided to have a contest to win a copy, but I'll save that for tomorrow. Today however Jenna might have a minute or two to stop by, so anyone that posts today and tomorrow, leaving a comment and/or a question (maximum of 2 entries), will be entered in the contest to win their very own copy of "Taboo". It's pretty much a stand-alone book, briefly mentions a couple from a previous Jess Michaels' story, but you certainly don't need to read those first. If you'd like to find out more about the book, here is m
y
review
of Taboo.
And in the meantime, let's visit for a time with Jenna and get to hear what this very busy lady has to say, and what she's up to these days!
S~ Jenna, thank you so much for spending some time here at my place. I'm really excited to have you here to talk about your books. But that's not all you do. Jenna, you are one busy lady. In addition to writing as both Jenna Petersen and Jess Michaels, you are also the webmistress over at Passionate Pen. How do you find time to juggle all these writing responsibilities?

Jenna: Very carefully. LOL Actually, I've cut back a bit. The Passionate Pen is now being updated once a month rather than every Monday (though I think I'll go up to twice a month after August and settle there). And I'm really focusing on writing and writing a bit slower lately. Burn out is an easy thing for any writer and I was getting close to being there in the last year or so.

S~ Tell us a little about Passionate Pen, which is as the website states, a resource for romance writers who are pursuing their dream. How did you get started and where do you see the site going over the next few years?

Jenna: I started Passionate Pen 10 years ago when I finished my first book but couldn't find an online resource that listed all the romance publishers and their submission guidelines. I figured if I wanted that, someone else might, so I created it. Over the years I've added a lot, including an agent list, articles for writers and of course the diary of my own journey toward and beyond publication. This year I've been slightly overwhelmed, so I cut back to updating every month from every week, but starting in August, I'll be going back up to updating twice a month (so every other week). The site is ever changing and I'm always adding new information there.

S~ You combine your two pen names, Jenna and Jess, on one blog. Other than the fact that your Jess Michaels' books are described as more sexually explicit yet still romance, what other differences exist between the two personas?

Jenna: I don't actually have a blog, but the two pen names are on one website. Actually JessMichaels.com still exists, it just forwards back to the Jess Michaels page on http://www.jennapetersen.com/ Updating two sites with basically much of the same info (appearances, news, releases) seemed redundant since I don't keep my two names secret. Really, the basic difference between Jess and Jenna is that my erotic romances almost always have a conflict based in something sexual. The plot is driven as much by the love scenes as anything else. This makes them germane to the plot at all times.

S~ Out of all your books, do you have a book or series that was the most fun to write? One that involved the most interesting research?

Jenna: It's hard to pick a "favorite" book because I've loved writing everything I've done. Usually my greatest love is whatever I'm writing at the time and whatever I've just had out. So at the moment that I'm writing this, my favorite book that is out is HER NOTORIOUS VISCOUNT and my favorite book I've written is my August 2010 release, AN UNWANTED DUCHESS. But in a few months it will change because the first book in the Billingham Bastards series, WHAT THE DUKE DESIRES (November 2009) will be out and I'll be starting to write the third book in the series, which features Caleb and Marah from LESSONS FROM A COURTESAN.

S~ What appeals to you most about the type of stories you write?

Jenna: I've always tended to lean toward sensual, dark stories, so it's been very naturally for me to write that way. I like the unfolding of the story and the little character surprises I tend to stumble upon with every book. And I like in the end feeling like I've told a story where the couple could really make it. They've grown together as people.

S~ Like Lori Foster, you're a big fan of UFC. Any plans to incorporate this passion into your writing, or it more of an outside interest?


Jenna: Actually, I already have. My April 2009 release, HER NOTORIOUS VISCOUNT features a hero who fought in London's Underground. Fighting is a big deal in that book (literally and figuratively). Since I write historical, it would be difficult to go beyond what I've done, but I do love the sport.

S~ In October, you're coming out with the first book in a new Jenna Petersen series. Can you tell us a little bit about the series and what the common thread is in these books?

Jenna: The series is called "The Billingham Bastards" and the first book is WHAT THE DUKE DESIRES (October 27 – technically it's actually a November release). In it my hero, the Duke of Billingham, discovers his father is not all he seems and sets out to find out more. The heroine is a woman bent on revenge who comes to destroy the good family name. The second and third books are about bastard sons that my hero finds his father sired.

S~ And in February, book 3 of Jess Michaels' Albright Sisters will be released. What can we expect to find with the third sister, and how many more books do you have planned in this series?

Jenna: The third book is NOTHING DENIED and is the last book in the Albright Sisters series that began with EVERYTHING FORBIDDEN and SOMETHING RECKLESS (and is lightly tied to TABOO, my recent May 2009 release). My heroine, Beatrice is the spoilt younger sister of my first two heroines and she definitely needs a hero to tame her, which is exactly what I gave her. This is the final book in the series, but readers who are interested in what happens to youngest sister Winifred, you will get resolution for her, as well.

S~ What is a typical writing day like for you? With your busy schedule, how do you keep yourself from getting burned out?

Jenna: It's a constant struggle for me to balance my life-life with my writing life because I do tend to do so much. But I've just had to cut back. I'm writing fewer pages a day, I'm updating Passionate Pen less and I'm picking and choosing which promotional efforts to pursue more carefully. I write full time and write from home, so I'm pretty much always at work. I just have to focus on leaving the "office" in my mind more often.

S~ How do you feel about promo: do you think authors should spend a significant amount of time promoting their books, visiting blogs, creating social networking opportunities like Facebook and myspace, or do you believe the work should speak for itself?

Jenna: I suppose in a perfect world that would work, but unfortunately for a writer starting out you have to get people to buy your book before the writing CAN speak for itself. So places like Facebook, MySpace, a personal website and other promotional efforts hopefully widen your net of people who are looking for your book and buying it, thereby creating a larger core fanbase. Obviously the writing has to be the most important thing, but having no promotional effort at all may not be a good idea in the current climate.

S~ Other than to keep writing, what has been the most valuable advice you've gotten about writing?

Jenna: Jennifer Crusie presented to a library in Washington state when I still lived there and she said to write with your head down. In other words, you write without having other people in your head, without correcting yourself while you do it. I've written that way ever since.

S~ How do you like to unwind? It's evident by your website you like movies and music, so what else do you like to do on your "down" time? What are some of your guilty pleasures?

Jenna: Like I said earlier, I tend to be in the office in my head a lot, so down time is a bit relative. I do like video games along with movies. I read when I can. My husband and I have also really gotten into travel. We went to China in March 2008 and it was wonderful. I get to pick our destination next, so I'm thinking Europe, though I don't know where. There's a wonderful train tour of the Alps that looks remarkable and I'm leaning that way.

S~ If you had a whole afternoon to yourself and one book you could read, whether a re-read or one you've been dying to get your hands on, what would it be?

Jenna: Really at this point, any book. When I'm writing, I don't read much and I tend to find other things to do because my brain is done with stories and reading text. But on the way to RWA National I had a couple of books to read, so I'm excited to have a few hours to myself to do that.

S~ How have you seen your characters evolve since you started writing? Have you had to make considerable personality changes to suit current times, or do you like to be bold and dare to color outside the lines of current trends?

Jenna: I guess I don't think I've ever written characters to "trend". They come more from a natural progression during my pre-writing process. The evolution I've seen more is just improvement in my writing, which comes from writing more books and having good editorial input from my editor. But I've never thought it was smart to chase trend. You can never catch it and the books lose their heart.

S~ What type of hero and heroine appeals to you, and have you ever written a character that you just didn't like? If so, how did you make it work?

Jenna: I really love broken bad boys and I've written a few like Dominic from SCANDALOUS, Grant from SEDUCTION IS FOREVER, Justin from LESSONS FROM A COURTESAN and Nicholas from HER NOTORIOUS VISCOUNT. But I also tend to write some very decent men thrown into situations they must face. Tristan from FROM LONDON WITH LOVE is a good example, also the hero in my upcoming book, Simon in WHAT THE DUKE DESIRES. Now Lucas in DESIRE NEVER DIES d
oesn't really fit either. He's not that… broken but he is a bad boy. He's sort of more your Hugh Jackman type rather than your Russell Crowe if that makes sense.

For my heroines, I like women with values. A lot of my women are taking charge in ways that break the mold. All my Ladies Spies ladies, for example. Also Jane in HER NOTORIOUS VISCOUNT, Victoria in LESSONS FROM A COURTESAN and Lillian, the heroine in WHAT THE DUKE DESIRES.

I've only written one character who I haven't liked and that is Beatrice in the upcoming NOTHING DENIED. In the previous Albright Sisters books, she was such a pill. Just not very nice and very spoiled. Redeeming her in her story was a challenge, but I found that the more I wrote her, the more I understood her and I hope readers will come to like her and understand her, as well.

S~ Do you have a book of the heart, or do each of them affect you as strongly, just perhaps in different ways?

Jenna: I actually don't believe in the whole concept of "Book of the Heart". In fact, I wrote an article on that subject at Passionate Pen:
http://www.passionatepen.com/book_of_my_what_article.htm
I have never written a book that I wasn't head over heels in love with. It's just too much work, blood, sweat and tears to do anything else.

S~ Do you remember the first adult romance you ever read? How old were you, and did you know from that point on that you wanted to write?

Jenna: I came very late in life to romance. In fact, I'd already decided to write it (because it's "easy", you know HA!!) before I read much of it. I think my first romance was MINX by Julia Quinn. And I thought, uh-oh. This is both awesome and proof that it's going to be HARD.

S~ What is Jenna and Jess working on next? What can we expect to see in the next 6-9 months?


Jenna: Right now NOTHING DENIED is the next Jess book, which comes out in February 2010. I'm really focused on my Jenna work presently. In November 2009 the first Billingham Bastards book hits shelves, WHAT THE DUKE DESIRES. And I'm nearly done with the first draft of the second book, AN UNWANTED DUCHESS, which will hit shelves in August 2010. And then I'll be starting the third book before the year ends. So lots coming down the pike from Jenna.

S~ Any last words, anything you'd like to add?

Jenna: Thanks so much for having me today! Readers can read excerpts of all my books at
http://www.jennapetersen.com
and look for my *Day-By-Day diary of my adventures at RWA in Washington, DC at
www.passionatepen.com
in the next couple of weeks. (*Jenna actually got this back to me before RWA, but I wasn't ready to post it - my bad. Still check it out and see what she was up to while in D.C. for RWA!)
S ~
Thanx again Jenna! Sounds like some exciting stories are lined up, and I personally cannot wait for NOTHING DENIED! I'll be sure to stop by to find out what else you're up to.
***And be sure to stop by tomorrow for your chance to win a copy of Taboo. A special thank you to Jenna for answering all my questions, and for writing some of the books that are on my keeper shelves :) ****
Labels: author interviews, Jenna Petersen, Jess Michaels