Wednesday, July 29, 2009: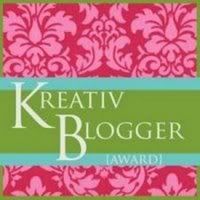 The Kreativ rules state that:
Once you receive this award you are to list seven of your favorite things and then nominate seven other blogs.
The lovely and talented Kati nominated me for this fun award, and though I basically suck at award follow-up, she must have had enough faith to figure I'd spread the love, so that's what I'm gonna do.
1. Steak & shrimp. My current favorite meal. I am such a carnivore,and there's nothing like a tender, juicy steak cooked to medium perfection - not too tough, not too bloody. And I love seafood, shrimp especially, whether it's fried or grilled. Yummy. Put them together and you have a divine meal. Add some flavorful wine and it's ambrosia. And while you're at it, why not add a slice of chocolate mousse cheesecake. Might as well, though with all these calories I've eaten for the week.
2. Anne of Green Gables & Anne of Avonlea starring Megan Follows. I could watch this 100 times and not be bored. Watching Anne grow up, and having Gilbert fall in love with her, going off to school and become a teacher herself. Anne's a dreamer with a penchant for getting into mischief, and oh what an amazing character she is. A kindred spirit. Everytime I watch the scene where she's coming home to Green Gables carrying a bouquet of flowers and she sees Marilla, I tear up. Gets me everytime.
3. The midwest. Yeah I bitch about the cold and having to drive in a blizzard but this place owns me. Except for the fact we're living on a fault line that my mother is convinced will erupt any day now, I am quite content with where I live, and though moving might be exciting, I don't think I'd actively try to leave. It's not too much, or too little, but has just enough of everything to make it interesting. Sitting here thinking about it, listening to the cicadas (?) and feeling the warm summer breeze makes me very happy. Then thee's knowing I could go downtown and see Lake Michigan or any of the various historical locations, take the elevator to the top of SEARS Tower (Willis? Huh) and see the amazing view of the city, or go to O'Hare and feel the excited buzz of travelers. I love airports - they've always fascinated me. ORD is one of the best.
4. Faith No More. This was my brother's music, but I developed a strange and inappropriate crush on the very weird and twisted
Mike Patton
, even though he sounded horrible live, and totally dug 2 of their albums, The Real Thing & Angel Dust, the former so much that I wore it out. Twice. I was obsessed, and those albums are still among my all-time favorites. True, I'm seriously disturbed, but I don't care. I just loved 'em. Obviously I still do.
5. Dawson's Creek. Yeah, I'll cop to this one, especially during the Pacey/Joey years. When he kisses her by the side of the road - swoon. Joey admitting to being attracted to him. Their secret relationship. Dawson finding out. Great tunes in that episode. The "let's spend the summer on a boat" seaon finale. I loved it all. Shamelessly, completely. It's not legendary like BtVS, but it'll do.
6. Bath & Body Works night-blooming jasmine lotion & body spray. I'm wearing it right now, and it's just the thing for warm summer evenings. The scent always puts me in a good mood. Not too strong, lightful floral, not sickeningly so. Rather sensual. Makes me feel pretty.
7. Netflix. I used to be so obsessed with t.v. that I'd watch like 5 + hours a day, so I gave it up for quite a long time, and I missed out on quite a few addictive shows. Now I've decided I can control my addiction, so I've been catching up in the last year or so. Gilmore Girls, House, Carnivale, Entourage are just a few of the shows I've been glomming. It's a cool concept, and I can keep the DVDs for quite some time without incurring late fees. I love it.
Now for the blogs, in no particular order but who probably have received this award at least once already:
What are some of YOUR favorite things?
Labels: awards