Monday, September 14, 2009: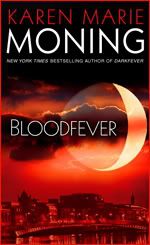 Mackayla Lane's ordinary life underwent a complete makeover when she landed on Ireland's shores and was plunged into a dark, deadly realm unlike any she ever imagined.
In her fight to stay alive, Mac must find the Sinsar Dubh—a million-year old book of the blackest magic imaginable that holds the key to power over both the worlds of Fae and Man. Pursued by Fae assassins, surrounded by mysterious figures she knows she cannot trust, Mac finds herself torn between two deadly and irresistible men: V'lane, the insatiable Fae, who can turn sensual arousal into an obsession for any woman; and the ever-inscrutable Jericho Barrons, a man as alluring as he is mysterious.
For centuries, the shadowy realm of the Fae has coexisted with that of humans. Now the walls between the two are coming down, and Mac is the only thing that stands between them...
In book #2 of the Fever series, Mac has, if not necessarily come to terms with her new life, she's adjusted rather well to the changes she's had to make because of it. More than ever she's determined to avenge her sister's death, yet isn't quite sure to go about finding the one responsible as he seems to have disappeared. She's not getting much help from Barrons, who's more interested in using her for his own purposes, and while V'lane managed to be around at a crucial moment, he has his own agenda for her. To make matters even more complicated, she discovers more about an organization of Sidhe-seers who want to recruit her for their cause, and her dad has come to bring her home.
Mac learns some startling information from her father about her and her sister, and while she knows both him and her mother are grieving over Alina's death and want her to come back home, Mac knows she can't go back there now, maybe never. He's persuaded to return home without her, but Mac can't ignore the fact that she's once again buried her head in the sand when it comes to dealing with some of the unpleasantness in her life. But there are many things her parents don't understand, can never comprehend, and she alone must fight this battle. It's a lonely time for Mac: she has no friends, her family is thousands of miles away, she doesn't know who she can trust, if anyone, and she has more enemies than she realizes.
So she continues to assist Barrons on his quest for Fae artifacts, avoid the dark, and try not to get caught by a death-by-sex Fae. All easier said than done. But Mac is rather resourceful, and not one to ignore a helping hand if it means avoiding a worse situation. What else can she do when everyone she meets wants a piece of her for their own and are only willing to help if they get it?
My thoughts:
The more I delve into the Fever world, the more I want to know. I am so completely curious about Barrons and exactly what his place is in all of this. I wonder at his true feelings for Mac. At times he seems to care a great deal, but it's likely he doesn't really want to, believing that it will make him weak and conflicted about his plans for her. They are fighting a war, and there's no time for sentimental feelings or going soft on her. A part of me is glad he doesn't relent so easily, while another, more female part wants him to just grab her and so unspeakably wicked hot things to her to get her to shut up for a minute. Now wouldn't that be divine?
One thing I must say is that while I did like this book a whole lot, I didn't like it quite as much as "Darkfever". Mac was a little too remniscent of Stephanie Plum here at times, and it threw me. I kept waiting for Ranger to show up. But once I got past that part I was once again happily emerged in Mac's world once again.
As with Barrons, I held almost as much curiosity for V'lane, and exactly what he wanted with Mac. She manages to resist him, which is part of his fascination for her, but at the same time, for a being who's been alive as long as he has, I have to wonder if that's all it takes to capture his interest. Don't get me wrong, because I do like Mac a lot, but she's all of 22 years old, and hasn't experienced a lot of what life has to offer. Maybe V'lane is drawn to that about her, appreciating she's not as jaded and so willing to jump into his bed without much thought to the consequences as many of her peers probably have done.
For those who haven't read the FEVER books but intend to, don't be looking for your HEA here. I'm not sure what KMM's plan is for the series, but these are not your typical romance books. I'm completely okay with that because then the focus is on the battle between humans and the Fae, and that's a lot to deal with without adding romance into the mix. I'm enjoying watching Mac grow up, though I wish she were a little older by now. I'm totally a Barrons girl right now, though I haven't really seen enough of V'lane to make a fair comparison. Still, I'm thinking Barrons is the more interesting of the two so far, and I'm hoping there's a future for him with Mac. I still have 2 more books to go to find out if anything develops in that area.
So I continue to be enamored of these books, and while a part of me wants to jump right into book #3, there's another part that's urging me to slow down and savor them, as only 4 books have been released and the last one just came out a few weeks ago. So for now, I might just take a little detour and catch up on my much-neglected TBR pile.
[Sidenote: I wanted to make a comment here about my reviews as well. I've noticed that I tend to be rather sparse on details, and it's because I really have no desire to inadvertantly reveal important aspects of the book. I want to capture the essence of the story without ruining key points. As time has gone on, I've felt like reviewing books has actually become more difficult for me instead of easier. I love reviewing, don't get me wrong, but the ability to make them interesting has gotten more challenging for me. So for now, this is how I review. I'm happy with it. Some days I write a long review, other times a shorter, more concise evaluation. Perhaps this style will change, I don't know. What I do know is that I continue to blog primarily for myself, whether it's a review, an observation, a hottie day, a tribute, or a rant. I realize that doesn't make for the most exciting posts, but then I'm content in my little corner of the world, and pleased that people stop to leave a comment. You are greatly appreciated.]
Rating: ****!/2 out of *****
Labels: Karen Marie Moning, reviews