Thursday, September 24, 2009: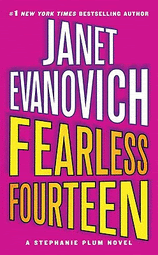 If you know anything about me at all, you've probably figured out that I'm a pretty forgiving reader. I will endure while other will throw up their hands in disgust. I can let things slide that make other readers see violatile shades of red. I prefer to enjoy than rip apart. Most of the time. Of course I have my own hot buttons and issues that turn me into a raving critic, and I can be adequately scathing when the need arises.
My latest complaint revolves around a series that many people have given up on awhile ago. I came to the Stephanie Plum books by Janet Evanovich relatively late, but caught up rather quickly. What I loved about the stories was that they were quick, fluffy reads that didn't take a lot of concentration or dedication on my part. I just had to read and enjoy. And I had been. For thirteen books. Sure, I was ready for a commitment. Our cupcake has been vascillating between Joe Morelli and Ranger for years now, but like Stephanie, I myself had a hard time choosing sides. Yeah, Joe is sexy and stable and he loves our girl, but Ranger was a temptation no living, breathing woman could pass up, and for some mysterious reason that even baffles me, he's got a bit of a thing for Ms. Plum. He might even love her. In his own way of course.
I finally picked up "Fearless Fourteen" over the weekend, and I gotta tell you, I'm done. I'm bored. I'm plain tired of the same old, same old. Even Grandma Mazur has failed to elicit a giggle out of me this time around, and she was always a sure thing. These characters don't evolve, and entire conversations can be said in a word:
"Babe".
That's it. One word which holds a wealth of meaning. But a woman likes to talk, and there's not much talking going on here by anyone. Like Joe and Ranger, I'm feeling like the readers are being strung along here. I'm also thinking Ms. Evanovich might be trying to count to 100 with this series, and I'm gonna die long before then.
I hate to say it, and I know it's already been said by stronger readers than me, but the series has officially jumped the shark. It's time to pick a team and let the boys off the hook, Stephanie. Cuz we ain't getting any younger here, and really, we already know the winner; it has been decided almost from the get-go, so now we just need to finish the game and bow out of the race.
Have you read the Plum series?
How far did you get before you declared defeat?
And because I just have to ask: Joe or Ranger????
Any other series that have jumped the shark?
Labels: Janet Evanovich, series