Monday, March 31, 2008: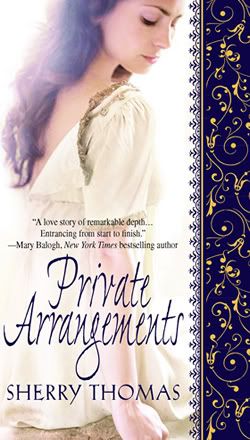 Mass Market Paperback: 384 pages
Publisher: Bantam (March 25, 2008)
ISBN-10: 0440244315
ISBN-13: 978-0440244318

LOVE HAS DESIGNS OF ITS OWN...
To all of London society, Lord and Lady Tremaine had the ideal arrangement: a marriage based on civility, courteousness, freedom—and living on separate continents.
But once upon a time, things were quite different for the Tremaines…When Gigi Rowland first laid eyes on Camden Saybrook, Lord Tremaine, the attraction was immediate and overwhelming: she simply had to have him. But what began in a spark of passion ended in betrayal the morning after their wedding—and Gigi wants to be free to marry again. Now Camden has returned from America with an outrageous demand—an heir—in exchange for Gigi's freedom.
Gigi's decision will have consequences she never imagined, as secrets are exposed, desire is rekindled—and one of London's most admired couples must either fall in love all over again…or let each other go forever.
This book by Sherry Thomas has been gettin' the buzz treatment in romanceland, and like any easily influenced person, I eagerly got my copy, despite the fact I tend to be disappointed by the things most people gush about, but that's another story.
Now I've started to prepare myself not to have expectations, and believe me, this is near impossible. I cannot help but get my hopes up over something several people gush over. I want to be part of that "in" crowd, the ones who "get it", because that just ain't me. So going in, I brace myself, though slightly. And it must have worked, because this time around, I loved this story.
The book starts out with Camden Saybrook returning home from America, after receiving summons from his wife Gigi that she wants a divorce. (Note: the name Gigi drove me nuts. I saw the movie with Leslie Caron as the main character, and I couldn't help but picture her in my mind while I read this. A bit distracting). A part of him really wants to see that she's been pining for him all these years, yet finds evidence to the contrary, especially considering the reason she wishes to divorce is to marry the man she now loves. Camden has agreed, provided Gigi meet his condition: to give him a heir.
There is no love lost between these two, at least not outwardly. Camden is especially cruel to Gigi, blackmailing her in order to get his way, all the while hurtling nasty insults at her in a calm, relaxed manner. Gigi is cut to the quick, but refuses to show it. Her thoughts are with Lord Frederick, a kind, caring man who adores her, and she stands strong, knowing that one day the two of them will finally be together, once her travesty of a marriage has been dissolved.
The next passage goes back 11 years, where we meet the young Gigi, a bit of a spoiled, smug young lady who's managed to get herself engaged to a duke, of all things. This passage sets the stage for the first meeting between Cam and Gigi, their ongoing relationship and eventually, their marriage. How it began, and also, how it ended.
There were moments throughout the book that I seriously didn't know whether I liked the characters or not. Times when Cam and Gigi could be so mean to each other than I wanted to smack them. But never at any point did I not care about what happened to them, and that is why I think I was about to enjoy this book so much. My feelings were strongly engaged, and I was extremely curious as to how the author was going to redeem them enough to earn their happy ending. Both Cam and Gigi had it in them to be completely selfish and unlikeable, yet instead of making me want to toss the book aside in disgust, it actually made me like it even more. I can't explain it, because really, who wants to read about characters you don't like? But they weren't horrible or unworthy of being cared for.
And maybe their misunderstanding could have been cleared up much sooner than 10 years later, but I believe both Cam and Gigi needed this time to grow. While it was extremely common for marriages to occur between people in their teens and early twenties back in the late 1800's, it was more satisfying to me as a reader to have the two resolve everything when they are more mature, more worldly. They both had to learn to trust each other again, to even like each other after so many years of not being able to tolerate the other, and I like watching this happen. Throughout it all, even during those moments of pain and cruelty, never once did Cam or Gigi lose that fascination for each other. No matter how unwanted, they were drawn together by something stronger than their own will.
As for the author, I was struck by her writing, by her humor and by her decision to create two people who are not honorable, or very nice to each other, and try to bring them together. I thought she did a fantastic job of convincing me that this was a love story, and that Camden and Gigi deserved their happiness together. With this book I did something I never do, and that is to bring my book to work and read it on my lunch hour. That's how badly I needed to read it. I will definitely be picking up her next book, "Delicious", when it comes out.
Rating: ****1/2 out of *****
Labels: reviews, Sherry Thomas