Friday, March 28, 2008:
It's getting harder for books to satisfy me. I have a feeling, talking with other readers and sharing ideas, that I am not alone in this. Part of it, a large part, is that the blush is off the rose. It's pretty much all been done, with few exceptions, so it's harder to find something to dazzle me as a reader. Yet I am still willing to be proven wrong, and have hopes that it can happen. (In fact I'm reading a book now that I am totally into, and no, it's not "The Blue-Eyed Devil", but I expect to be swept off my feet by this one over the weekend).
As I was fondly thinking back on the those early days of reading romance, those books I had discovered after reading the young adult romances that were more geared towards girls my age (around 12 at the time), I tried to remember the authors that I couldn't get enough of back then. Those were such idyllic times, loving the books so passionately, and re-reading my absolute favorite ones. Here are three authors that had a defining role in shaping my romance tastes, and one of the books that stood out prominently in my mind.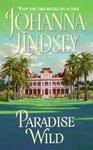 A well-born Boston beauty, Corinne Barrows has traveled halfway around the world in search of Jared Burkett -- a dashing rogue and a devil; a honey-tongued charmer who seduced and despoiled her. . .and then abandoned the impetuous lady after awakening a need that only he could satisfy.

She has found him on the lush and lovely island of Hawaii. And now Corinne will have the revenge she craves: the total ruin of the blackguard who brought shame and scandal into her life. But Jared still possesses the power to excite her as no man has ever done--even as his own reckless heart is taken captive in their blistering war of wits and will--igniting a fire that could consume them both unless they surrender to it with wild abandon in the heat of the tropic night.
If I read it today, the violence between the hero and heroine, not to mention how spoiled the heroine was and the abusiveness of the hero would certainly disgust me. Yet it was my first ever JL, and one of my first romances, and I read it many, many times back in the '80's. Was it wrong of me to love this story? I don't know, but I did. I haven't read it in many years, but it's one of the books that stays with me when I think back on my first romances.
Later I came across the Malorys, starting with "Love Only Once", adoring them instantly, and falling head over heels in love with Anthony (Tender Rebel). I am more the blue-collar type of girl, and probably should have gone for James, but debonair and charming Anthony swept me off my feet. That's how I like to remember JL's books.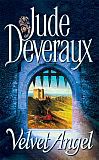 Another favorite back then was
Jude Deveraux
. I was especially intrigued by her because she introduced me to series romance, most notably the Taggarts and the Montgomerys.
She came to him as a precious gift, a naked angel rolled in a rug. Once he gazed into her green eyes, saw her tangle of honey blonde hair, he was undone with passion.Elizabeth would never surrender. He was a hated Montgomery -- she was a Chatworth -- and the blood war between their families raged on, a wildfire of rape, murder, and betrayal.Elizabeth vowed to fight the handsome lord, to resist the burning desire in his eyes -- no matter how great the temptation.

I couldn't wait for another installment by Ms. Deveraux, who introduced me to quite a few firsts - a heavier heroine (Wishes), the younger man/older woman romance (The Invitation), and even a bit of the paranormal (A Knight in Shining Armor). Though I also haven't read her books in years, she influenced me a lot back then, and even made me do something I didn't do a lot of back then when I was reading, and that was to cry (Remembrance). JD was a definite impact on my reading, and I loved how her Taggarts and Montgomerys intertwined. Good times.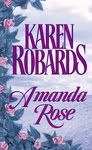 Amanda Rose was an English beauty determined to escape the loveless marriage imposed on her by her cruel stepbrother. She never dreamed a mysterious rogue from the New World would enter her life. Amanda's promise not to betray Matt Grayson, a wounded fugitive, was soon replaced by a deeper vow. Now a cruel twist of fate threw them together as enemies, instead of lovers.
Karen Robards also had a huge impact on me during those teenage years. She was another author who had written some significant firsts for me: teacher and student (One Summer), forbidden love (Forbidden Love), and interracial love "Desire In the Sun". Her stories were unforgettable, passionately intense, and wildly romantic. Though I stopped reading her books, I still remember how much I enjoyed her stories, and wish I could recapture that feeling again.
As I've mentioned, I don't read books by any of these authors anymore, as my reading style has changed and evolved, and a greater number of authors has had me selecting my books with more care. Back in the 80's and 90's, I had no clue what a tbr pile was because I didn't have one. Now I have a mountain range, so when I chose an author to read, I select those that still engage my senses, as well as several new ones that have caught my attention. It's hit or miss, much like anything else that requires an opinion, but unless I could read much faster, I wouldn't have it any other way.
Which authors helped shape your reading habits?
Do you still read their books today?
If not, why do you think that is?
Labels: Johanna Lindsey, Jude Deveraux, Karen Robards