Sunday, February 04, 2007: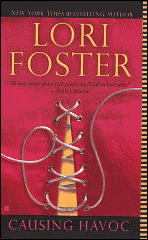 Paperback: 352 pages
Publisher: Berkley (February 6, 2007)
ISBN-10: 0425214230
ISBN-13: 978-0425214237
Sexy, sculpted extreme fighter Dean "Havoc" Connor has knee-melting good looks-and thick skin. But not from his brutal sport's enclosed rings. Orphaned and torn from his sisters as a boy, he has no family. That is, until he gets a letter revealing how much the once-little girls want him back in Harmony, Kentucky .

To stop his sister from marrying a man as sleazy as he is wealthy, Dean finds himself teaming up with her pretty-but-smart-mouthed friend Eve-who's heard of "Havoc's" reputation and doesn't need some hunk trampling on her heart. Now all Dean has to do is protect his sisters, win Eve over, and expose a devious criminal.
And he thought winning the heavyweight cage fighting belt was hard.
Lori Foster's trademark style shines through in this story about a tough-as-nails fighter who thinks he doesn't need anyone in his life until a letter from his younger sister Camille finds its way into his hands, asking Dean to come home.
Dean "Havoc" Conor thought he'd left Harmony, Kentucky behind a long time ago when he went to go live with his uncle at the age of nine, but life has a way of taking you home, whether you want it or not. Since he's currently between fights and needs some down-time to recover, he decides to take some time to go see his sisters, wondering why they would want to see him now, after all this time. They had a privileged life, unlike the unconventional one he'd had with his uncle, so he can't imagine why they might want to see him.
On his first night back, Dean stops at a bar and meets Eve Lavon, a sexy woman to whom he is instanteously attracted and has no qualms about going after. The attraction is sizzling hot and mutual, however they end up going their separate ways, not realizing their paths will cross again very soon.
In fact, Dean discovers many unexpected surprises when he goes to see his sisters. For one, Eve is his sister Cam's best friend. For another, Cam and Jacki are not living the privileged life he'd been led to believe, nor are they the stuck-up brats he'd imagined. Instead they are both loving, loyal, hard-working young women trying to make ends meet as they try their best to deal with the aunt who raised them. Dean decides to stick around for awhile and get to know his sisters while also making time with the irresistible Eve.
Without even realizing it, Cam and Jacki sneak their way into Dean's heart, and soon he has the family he doesn't even realize he's always wanted. He feels instantly protective of Cam, the older, responsible, loving sister, and Jacki, the wild child who is fiercely loyal to her sister. But it doesn't stop there. Dean also finds himself falling in love for the first time, and thinks that maybe the small town of Harmony might be a piece of heaven on earth.
I'll admit that I'm not a big fan of the whole Ultimate Fighting league, but I am a fan of Lori's books and she manages to pull me into the story and has me falling in love with Dean and the other characters right from the start. Lori takes characteristics of a great fighter: honor, honesty, skill, discipline, and courage to build a strong hero who isn't afraid to go after what he wants, or to face his own mistakes head-on.
I love how confident Dean is, how sure of himself, and how he doesn't hold back, even if it makes him uncomfortable, especially dealing with a whole lot of female issues. While this is a romance, Lori has placed more attention on Dean's family life, which shows his transition into the hero any woman would want. He develops a true friendship with Eve, the woman who captures his heart, and delights in having an earthy, intensely sexual relationship with her. He respects her strength, and isn't afraid to share his thoughts with her. But Dean is still a guy, so he's not perfect, and he does stumble through as he tries to get to know his sisters and the woman he loves. But that's what makes him so endearing, and so sexy.
Eve is no slouch either. She's a confident, intelligent woman, and because of that, she lets Dean see the side of her that isn't always a sex goddess, and know that if he's worth her time, he won't care - he'll still want her anyway. And he does. I love how she gets along great with her family, and how she loves her friends Cam and Jacki. Eve is not just another groupie in Dean's life; she wants more than just a roll in the hay, unlike a lot of women in his life. Eve teaches Dean about commitment, and about sticking it out no matter what. And that a woman can take care of herself, but sometimes it's nice to have someone there for back-up.
Labels: "Causing Havoc", Lori Foster, reviews