Sunday, January 28, 2007:
It's cold! - 18 degrees - and it's blowing snow. I'm supposed to be meeting my friend later today to finally give her a Christmas present, but so far neither one of us is too enthusiastic about braving the elements, though I did run out earlier today to get some Dunkin Donuts coffee, with wet hair. If I get sick, you know whose fault it is.
Update: we did meet for dinner and exchanged our gifts - got a lovely gift certificate to Barnes & Noble as one of my presents. Given that my friend hates to give gift cards because she feels they are too impersonal, this was a true honor, and I let her know how much I adored it :)
This "forced" isolation this weekend so far has given me plenty of opportunity to read, or re-read. I was in the mood for something really hot, so I re-read a Ellora's Cave by Kathryn Anne Dubois - "
Perfectly Incompatible
".
Michael Mulcahy, successor to a long line of NYC cops, has learned enough from his brothers' mistakes to know that Libby Crowne Vandermark, a fellow FBI agent and former debutante from the Upper East Side, is all wrong for him. He just needs to slake his relentless lust for her. This undercover operation, where they pose as a married couple at a "second honeymoon" spa, is the perfect excuse to do it.
Libby can't believe she's stuck with Neanderthal Mulcahy. Having grown up with three chauvinist brothers and a dominant father, she goes out of her way to avoid men like him. If she can just keep her eyes off him while they're together, every day and night, she'll get through this.
Until they realize just how perfectly incompatible they are.
I'll admit that the first time I read this story, I didn't much care for it, but then it grew on me. I just love the idea of the hero being so attracted to the heroine, and then eventually falling in love with her. And if he's unwillingly attracted to her, that's even better. It's one of my favorite storylines. I'm not sure why I didn't like it at first - maybe because of some of the events that happen after they finally get together - but once I gave it another chance, it ended up being a re-read.
And all those sparks between two people who claim to hate each other made this story totally hot. Sometimes all I want is just a really sexy romance - nothing too deep or complicated, maybe a little emotional. I also like how the sexual tension was drawn out between Libby and Michael, and that instant gratification was denied until about 1/2 way through the book. I believe that's what made it a better story.
Lady Pelham could not have designed a husband more suited to her needs. The Marquess of Grayson is a dear and enchanting friend and an unrepentant ladies' man. Their union is solid; their hearts safe from one another. But every marriage has its surprises…

They Were Together For All The Wrong Reasons…
They are London's most scandalous couple. Isabel, Lady Pelham, and Gerard Faulkner, Marquess of Grayson, are well matched in all things… their lusty appetites, constant paramours, wicked wits, provocative reputations, and their absolute refusal ever to ruin their marriage of convenience by falling in love with one another. Isabel knows such a charming rake will never appeal to her guarded heart, nor will she sway his philandering one. It is a most agreeable sham … until a shocking turn of events sends Gerard from her side.

Now, four years later, Gerard has come home to Isabel. But the carefree, boyish rogue who left has been replaced by a brooding, powerful, irresistible man who is determined to seduce his way into her affections. Gone is the devil-may-care companion who shared her friendship and nothing more, and in his place is temptation itself … a husband who desires Isabel body and soul and who will stop at nothing to win her love. No, this is not at all the man she had married. But he is the man who might finally steal her heart…
I won this one at the Brava Authors blog, and I was so excited because I've been waiting for this book for what must have been a year, ever since first reading "Bad Boys Ahoy" and falling in love with Sylvia's writing. I wanted to savor it, and boy, did I. I liked it better than "Ask For It", which was enjoyable but a little bit harsh for me. Yet this one got to me on so many levels. I went in fully expecting to actually dislike both the hero and heroine in the beginning, but that's not what happened at all.
Isabel is an independent widow who has no qualms about taking lovers to satisfy her needs. She's honest with her men and intends never to fall in love with any of them - she's very upfront about that. Marrying the younger, charming Gerard seemed like the right thing to do at the time - it would allow her to go on as she had been without worrying about her paramours having further expectations beyond an affair. Neither wishes to give up their lifestyle, so marriage to each other would provide them with the perfect set-up to continue living as they see fit: happy, free, and apart from each other. It's an ideal arrangement.
But a tragedy has sent Gerard away for many years, and when he returns, he has come to the decision that he wants his marriage to be a successful one. No longer satisfied with his old lifestyle, Gerard wants his wife...and only his wife. He's determined to make her feel the same way about him. But not only does Gerard have to deal with those who oppose his new endeavor, he must also convince his very beautiful and equally stubborn wife that they were meant for each other. Not an easy thing to do considering her past experience with marriage and his own fears for the future.
I found both Isabel and Gerard to be likeable characters right from the start, and they genuinely did care for each other as friends, sharing an affection that brought them close together from the very first. I would have liked to have seen even more glimpses into their friendship and less into their bedroom; it would have made their connection stronger, more emotional, which is something I am constantly seeking in the books I read and hardly ever manage to find anymore. All in all though, I was not disappointed and plan on reading more of Sylvia's work in the future.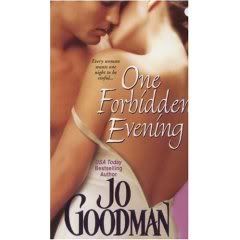 As a masked ball reaches its fever pitch, Cybelline Caldwell surrenders to the embrace of a midnight lover, a stranger who seals her fate. By morning the wanton seductress has been replaced by a determinedly sensible woman preparing to leave London...and its memories. Yet temptation follows. For Christopher Hollings, Earl of Ferrin, the notorious rake she so brazenly challenged, vows to show her that one night was not enough.

It took some clever detective work, but Ferrin uncovered the identity of his mystery lover, surprised and intrigued to come face to face with Cybelline. Soon he discovers she is a woman of mystery-and a woman in danger, stalked by a ruthless enemy. Unable to erase the searing memory of Cybelline in his arms, Ferrin knows he must discover the secrets that shadow her days...for only than can he claim all of her nights.
I'd heard good things about this book since it first came out, but can't say that I really paid all that much attention to this author or any of her work, so it pretty much dropped off my radar. During a recent trip to the bookstore though, I happened to notice this one (yeah, NK caught my eye) and liked the blurb on the backcover. I was hoping it wasn't as cynical and clinical as "Passion", a story that left me somewhat cold and disappointed after reading so many rave reviews. To my relief, I was immediately pulled into Cybelline's and Ferrin's story. It energized me.
Sure, for those who have read it, you know the ending is contrived and a bit over-the-top, but the rest of the story was delightful. Both Cybelline and Ferrin impressed me with their wit and intelligence, and I loved how Ferrin proved his devotion to Cybelline with actions as well as words. In addition, Cybelline finally began to let go of her self-hatred and accept her true worth. Their love story was romantic because they took the time to get to know each other, and what they discovered was even more wonderful than they could have imagined. Having never read anything by Goodman before, I was quite taken with this story, which according to some readers, is not her best work. I'm tempted to glom her entire backlist, but so far I've managed to hold off on that particular urge.
Have any of you read Goodman? What would you recommend?
How are you staying warm?
Labels: quickie reviews, reading, Sundays