Friday, August 13, 2010:
Today is all about Mar here at my place. Mar is a newer friend, and we probably haven't chatted as much as some of the other people over on Twitter, but I think she's a doll, and wanted to have her visit with y'all so you could see for yourself. She posts cute pics of her kids and her new little furbaby, and I am a sucker for kids and puppies, so right then and there she won me over. And I'm really excited today to get to know a bit more about this one hot chica :D
Stacy: Feel free to tell us about yourself: name, background, etc. Are you a reader/blogger/writer?
My name is Mariselle but you know me as Mar. Most people butcher my name, so I just cut it down to save them from their minds exploding into hot lava. I also have a nickname that my baby sister gave me, I'm known to my family as Lulu. I was born in Puerto Rico but moved to Florida at the age of 8 and I've been here ever since. My husband is a firefighter and we will be married ten years this coming October. By the ridiculous amounts of photos I post on Twitter, you already know I'm a Mama to a boy (Big Lu), a girl (Oli) and also two doggies, Daisy and Matilda. I work for a software company (think Office Space) that keeps me enslaved in a cube for 40 hours a week, where I Twitter my ass off to keep my sanity. :) I am very productive. Unlike most of the girls you've had on here, I am not a blogger unless you count blog-stalking as an activity. I am however a reader, which is how you and I connected. I love LOOOOVE to read paranormal, erotic and contemporary romance.

Do you have a blog? What is the name/link and how would you describe your blog?

N/A

What book(s) are you currently reading? Would you recommend it?
I just finished Sin Undone by Larissa Ione. Do I recommend it would probably be the understatement of the year. This was by far, one of her hottest books yet and I am in complete love with Con. If you have not read the Demonica series, seriously you are crazy.

What is your most anticipated soon to be released book?
This one cannot come soon enough, the next book in the BDB series, Lover Unleashed. Love me some Brothers, true? [True that!]

What's playing nonstop on your iPod rotation right now?
Will I be stoned if I say I don't own an iPod?

What are your favorite places to visit online?
Twitter (NO WAY GET OUT, REALLY?)
Amazon.com
, Facebook because if I don't post photos of my kids, my family will revolt, DSW (Shoooes!), IMDB, Tumblr #smutclub, Rain Roof (thanks KC!), Perez Hilton, Dooce and many, many book blogs of course. Goodreads because it's a great place to keep up with what everyone is reading and what they thought on a book.

What are some of your favorite things: beverage? food? t.v. show?
Beer. I love beer, I'm not gonna lie. And wine. And diet coke. And COFFEE! I've been drinking coffee since I was a little kid and to take that away from me would cause severe withdrawals, so no thanks I'm keeping my caffeine, thank you very much. My favorite food? Where do I even start with that since I eat everything….except mushrooms, yuckkk! But give me Spanish food, I don't care if it's Puerto Rican, Cuban, Mexican, it is all good. I also love Italian food…carbs anyone? Favorite TV show…right now, it will have to be Trueblood. I also like CSI Vegas, Law Order SVU, Cougar Town, Modern Family and Biggest Loser.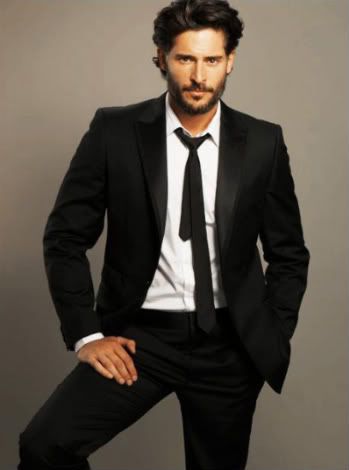 Which hottie out there is to die for?
I have always had a thing for this man, Oded Fher but really can you blame me? Just look at his lips, I think I can tuck myself in at night with the bottom one alone. To say that I love him would be like asking if the ocean is blue. Sigh. Also like everyone else, I adore Joe Manganiello but have you ever taken a good look at Theo Alexander (Talbot)…? Behold the beauty that is him. *sigh*
Favorite restaurant?
Olive Garden, breadsticks! Bahama Breeze, Tostones con Pollo! Hooters…I don't give a s*** if there are girls with their booties hanging out, those wings are da'bomb!
What is your idea of a romantic gesture from your sweetie?
Sometimes when I'm super busy and have no time to go get a pedi, my husband offers to do it for me and who am' I to refuse. It actually started back when I was pregs with my Son and I could hardly see my feet that he offered and ever since then, it's just been a thang. It's rather cute seeing a big macho-man concentrating on holding a bottle of OPI That's Hot! Pink, while polishing your toes.

What would people be surprised to learn about you?

Now, I know this is hard to believe but I'm rather quiet at first when you meet me but then if you stick around, it's all downhill from there. Be warned. When I was 19 I volunteered as the mascot for one of our local hospitals, where I had to dress up in this HUGE teddy bear costume and visit the pediatric floor. The kids loved it and seeing their expressions when I came through their rooms was very satisfying and sometimes a little bit sad but so worth sweating my butt off in that giant bear costume. Although I make up crazy words around my kids to prevent repetition, according to my husband I curse worse than the guys at his fire station. I am a big sap meaning I cry for anything, tv shows, movies, commercials, magazine articles, books…I can keep going but by this time you are probably calling me a big wuss so I will stop. And lastly, I love to dance and be silly with my kids because in their eyes, I am the coolest person in the entire universe. And that's really all I give a s, I mean care about it.
Well I don't know about all of you, but I feel cooler for just reading that and seeing what an awesome person Mar is. Adore your hubs gives you pedis. Lucky woman! Thanx for being here today, Mar. And I hope y'all have a fabulous weekend. I intend to :)
Labels: online friends, spotlight