Tuesday, August 03, 2010: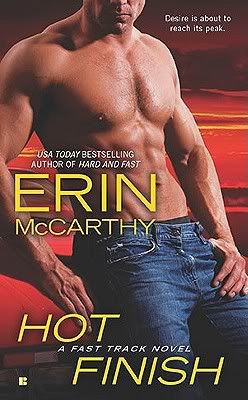 Not all marriages last forever!

Suzanne Jefferson is broke, which is why she's given up charity work for wedding planning. Fortunately, she has a high-profile client,and best of all, he's paid in advance. There are just two teensy problems: The bride is a bona fide bridezilla, and Suzanne's ex-husband is the best man. At least she thought he was her ex-husband!

But this one might…

Two years after their marriage fell apart, stock car race driver Ryder Jefferson still can't stop thinking about Suzanne. Which is why he isn't too upset that, due to a glitch, the two are still technically married. Now he's imagining easing Suzanne's woes by satisfying her needs in the bedroom. After all, that's the one room they never argued in. Besides, with wedding bells ringing all around them, Ryder is wondering if,even though they'd quit the race a few laps too early,they can still come on strong with a big, romantic finish!
Like many readers, I've been waiting for the release of "Hot Finish" for what feels like forever. The chemistry between Suzanne and Ryder has been strong and intoxicating since the first book in the Fast Track series, "Flat-Out Sexy", and the desire to finally have them hook up was overwhelming. Here are some of my favorite moments from their story...
10. Bridezilla! Come on, admit it. Watching this trainwreck of a wedding come together was crazy fun in an almost horrifying yet hilarious way. Nikki was over the top, and her ideas kept getting wilder and wilder. But that was the beauty of it. I'm just relieved I don't have any friends like her. At least I don't think I do...
9. Vegas, baby! I've been there twice and had a blast each time. The idea of Suz and Ryder enjoying the decadence of Sin City is quite irresistible, even if they never left their room ;) It's a fabulous setting.
8. Pete and Hunter. I know a lot of readers don't like kids in romances, but I personally get all melty watching these big, strong alpha males being so tender and affectionate with the kids. Not much sexier than a man who loves kids and animals. And these kids are great, not annoying and whiny.
7. Money! Okay, that's the greedy demon inside of me, but the idea of having enough of it to throw a spendiferous wedding and buy after hours special tours and what-not kind of perks sounds like a pretty damn cool thing to me, and I want me some of that. The fact that I will never experience that kind of lifestyle only makes me more intrigued by it. Money can't buy happiness, but it can buy security. Usually.
6. Racing. My uncle used to race in stock car races when I was a kid, and him and his buddies would come to our house to load the car onto the truck. I was even lucky enough to get a ride or two here and there. Wow, are those cars loud, but full of power, and it was so exciting! There's just something about a man who knows how to handle himself behind the wheel of a car that's infinitely sexy ;)
5. Girlfriends. Imogen and Tamara are the kind of girlfriends we should all have - caring and loyal and ready to listen and care, but also smart and cool and willing to step in and say "enough is enough" already.
4. Guy friends. Elec and Ty are hilarious as uncomfortable buddies trying to help Ryder through his heartache, but they rocked for it. Not that they were all emo and moping around with Ryder, but they had his back.
3. Ryder and Suz together. They definitely have incredible chemistry, and they "get" each other. I don't think Ryder minds that Suz can be a bit of a bitch. She's his sexy bitch and he loves her, because he can also see a softer side to this tough, assertive woman. I gotta adore a guy who loves his woman just as she is.
2. The previous couples: Elec & Tamara and Ty & Imogen. Seeing them so happy and working on their own relationships and knowing how relieved they were not to be out on the dating scene but in a happy, committed relationship was wonderful.
1. And my absolutely favorite moment from "Hot Finish" has to be Ryder and his love for Suzanne. He recognized almost immediately that he'd never stopped caring so much for her, and realized that if they had only communicated when they were together that maybe they would have never gotten divorced to begin with. I love how much he truly cared for her. Sure, he had moments of total "guy-ness", but even his buddies knew how hung up he was on Suz and how happy she made him. He was in love but he wasn't a dork about it. I just adored Ryder and wanted to have his babies.
As much as I enjoyed the book, I do need to mention the opposite side of the coin...
**What I didn't like about Hot Finish? I'll admit it, Suz was not the snappy, funny, endearing bitch she was in the previous books. I couldn't warm up to her this time around like Ryder does. She was a bit of a shrew, in my opinion, and much deserving of a smack at times. But I still enjoyed the book and can't wait for more from the Fast Track series. Go Erin!!!!
Rating: **** out of *****

Labels: Erin McCarthy