Thursday, October 16, 2008:
You know, it's been a really great summer/fall with authors coming to town for booksignings. I've been keeping up with
Booktour
, which is a fabulous resource to find which authors coming to your area. That's how I found about this signing. It was about a month ago when I saw who would be coming to Northern IL, and I completely had a fangirl moment (in the privacy of my own home, thank God). I'd met both of them at RWA this past summer, but this was an opportunity I couldn't miss.
We had a nice dinner beforehand at Outback Steakhouse, where Shannon regaled us with amusing stories about her students (Patrick sounds just precious!) and got to the library a tad bit late as I didn't realize they were having a Q&A session with the authors. We quickly found chairs and sat back as we were entertained by Julia & Laura.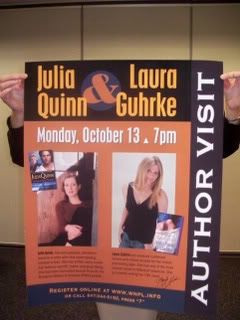 The event....
Julia being a brat...
But a rather lovable one. If you ever get a chance to meet Julia, you must do so. She LOVES to talk, and she's so funny. She's also very smart and completely mischievious.
Julia still being a brat...
Laura was a little more serious, but she definitely has a sense of humor, and some very cool ideas for future books. She sets her books later than the Regency era, so chances are we will be seeing more modern inventions and conveniences showing up in her books. Laura also mentioned that in her research, the term "girl bachelor" actually did exist back in the day her "Girl Bachelor" series is set. That's pretty cool.
Stacy dissing Julia
But not intentionally! I hate facing directly forward when I get my picture taken, so it's automatic that I turn to the side. My "best" side. (Note: my photographer - one of the librarians - didn't take the best pictures). I brought about 7 books to be signed, including my favorite Quinn - "When He Was Wicked", and my favorite Guhrke - "Guilty Pleasures" - they both graciously signed them.
Queen Bella and the authors
Michelle always looks so comfortable in front of the camera, whether it's with Julia & Laura here, or Nora, or even in bed with Fabio.
The effervescent Shannon & company
Shannon always looks so cool, even when wearing jeans. I just love her short hair, and she has such a fun sense of humor. She's definitely has strong ideas on what she likes and doesn't like in her books. It's fun to talk books with her.
The terrific trio of Michelle, Stacy & Shannon
Here we all are after our fun day. I'm so glad I have fellow romance booklovers to hang with from time to time. These ladies are a blast!
Do you have a favorite Quinn and/or Guhrke book?
Labels: Julia Quinn, Laura Lee Guhrke