Monday, July 21, 2008: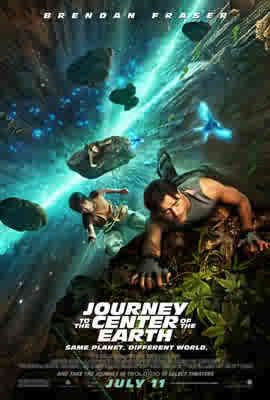 A science professor's untraditional hypotheses have made him the laughing stock of the academic community. But on an expedition in Iceland, he and his nephew stumble upon a major discovery that launches them on a thrilling journey deep beneath the Earth's surface, where they travel through never-before-seen worlds and encounter a variety of unusual creatures.
This movie was a new experience for me for a few reasons. First of all, I've never read anything by
Jules Verne
, so this was a treat, and it was also my first movie in 3D. Let me tell you, I had a blast. I went and saw it with one of my girlfriends and her mom, who giggled several times which I thought was cute. This was just a fun, fun movie. Tons of special effects of course, but that didn't bother me. I just loved the whole idea of the center of the earth harboring such hidden wonders. If only reality were sometimes as amazing as our imagination.
Plus I think it's a great family film. So many movies out there for kids are animated (there were at least 3 animated previews I watched today) so to see one with actual people in it was very nice. Don't get me wrong, I do want to see the animated Wall-E, but I like to see movies with actual people in them on occasion. This one fit the bill. It was a great way to spend a hot and humid Sunday afternoon. Plus, Brendan Fraser is kind of cute in a goofy, endearing way, and I do like his voice, so the eye candy portion of the production definitely worked for me, and my friend was in total agreement. Two thumbs up from both of us.
Rating: **** out of *****
Have you seen movies in 3D?
Which was your first?
Labels: Brendan Fraser, movies, quickie reviews