Thursday, July 10, 2008: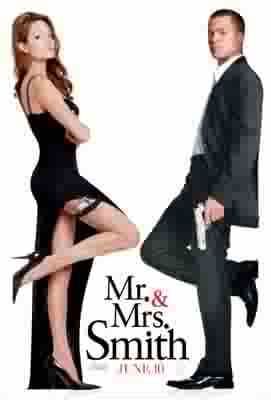 John and Jane Smith are an ordinary suburban couple with an ordinary, lifeless suburban marriage. But each is hiding something the other would kill to know: Mr. and Mrs. Smith are actually highly paid, incredibly efficient assassins--and they work for competing organizations. Mr. and Mrs. Smith both discover a new source of excitement in their marriage, when they're hired to assassinate each other--and that's when the real fun starts. The result is a total action spectacle, as Mr. and Mrs. Smith put their formidable skills to work and their marriage to the ultimate test.
I avoided seeing this movie at the time it came out, partially because of all the Jen/Brad/Angelina drama (I was in the Jen camp back then) and because I didn't get around to seeing it in the theatre. No biggie. I didn't feel like I was missing anything important.
But after watching "Wanted" recently, I got on a Angelina kick, and added this one to the queue. I don't know what I was expecting, yet surprisingly, I thoroughly enjoyed this movie, and it was all because of Angelina and Brad. Say what you will, like who you like, but I thought these two were great together, and the chemistry is definitely, definitely there. Though I got over my Brad crush years and years ago - I loved him on "Growing Pains" when he thought she was the most popular girl in school and of course he will forever be that hot cowboy in "Thelma & Louise" - I found him rather appealing with Angelina. And with all the money they donate for children's causes, I have to say I honestly like these two.
Anyway, no one plays a kick-ass woman like AJ, especially when she looks like she's having so much fun doing it. Here, she tries to play Jane, the perfect wife, getting dinner ready and going to marriage counseling with her husband while carrying out deadly missions. John (Brad) pretends he's the perfect husband, but he's bored with his wife, and lives for the assignments that keep his life exciting. Living in the same town, working for different agencies, eventually their paths cross - from opposite sides. Now they each have a new assignment - to kill their spouse.
Sneaky, sexy, adventurous, these two will do whatever they can to get one up on the other, except to actually kill. Deep down, they still love each other, and while neither wants the other to win, they can't bear to see the other person die either. But turns out they're not the only ones in on the game, so dying might not exactly be their choice....
So yeah, it was almost 2 hours of mindless entertainment - fun stuff. I like how Jane was not relegated to sidekick, but also wasn't always the perfect one either. John could be the typical, protective guy, yet sometimes his wife was better at it than he was. They were perfectly matched, sickeningly good-looking, and very charismatic. Yeah, I enjoyed it a lot.
Rating: ****1/2 out of *****
So tell me, other than her and Jennifer Garner, what other kick-ass heroines are there out there?
Labels: Angelina Jolie, Brad Pitt