Tuesday, July 08, 2008: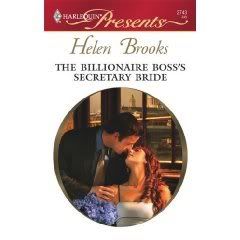 Mass Market Paperback: 192 pages
Publisher: Harlequin (July 1, 2008)
Language: English
ISBN-10: 037312743X
ISBN-13: 978-0373127436
As far as secretary Gina Leighton is concerned, billionaire businessman Harry Breedon has never shown more than a professional interest in her. Why should he? Plain and plump, Gina knows she's hardly trophy-wife material!
But Harry has noticed her—sexy curves and all—and now that Gina has another job offer, he'll have to act fast. This handsome tycoon is determined to seduce her into staying—even if that means making her his wife!
Harlequin Presents are hit or miss with me, yet I enjoy reading them because they are quick reads - like a bag of potato chips - and I do come across some that I re-read many times over. The titles don't always do them justice, sad to say, and I haven't been in an HP mood lately, but I was over at Meljean Brook's
blog
and she was talking about this one, and I just had to get it. Especially since it was dealing with one of my all-time favorite themes: unrequited love.
Gina has decided to leave the job she's had for the last 11 years and move to London in order to get away from the heartache of loving a man who will never love her back. On her last day, Harry, the man she loves, takes her to dinner as a "good-bye", and realizes how much he's going to miss the lovely, efficient woman who's been his father's secretary and now his for the last year. But Harry has always known that Gina is a "forever" kind of woman, and has stayed clear of any type of entanglement with her. Yet when she reveals she's in love with someone, and that's the main reason why she's leaving, Harry can't stop thinking about it...or her.
Gina is determined to make a clean break. She knows Harry is a love 'em and leave 'em kind of man, and she knows she could never settle for less than a commitment, so she packs up her flat, and accepts a job in the city. Only Harry keeps finding ways to be around her or to have her help him, prolonging their good-bye. It's both wonderful and awful for Gina, who loves being with Harry but knows it will never go anywhere. She must move on.
My thoughts:
As I said, I love unrequited love stories, and this was was especially poignant. True, Gina moped over Harry for the better part of a year, then she finally decided to get out of her rut and do something about it. Taking a new job away from home seemed to be a smart thing to do, as much as it hurt, and I was glad to see that she decided not to spend the rest of her life pining.
I also enjoyed how Gina was with Harry. Instead of fawning all over him and being agreeable, she challenged him and made him really think about things, and this was rather uncomfortable for him at times. Harry had to take a good look inside himself and really consider the choices he's made in the last 10 years, and he didn't necessarily like eveything he discovered. I thought this was a genuinely interesting perspective for us to see, and I liked how it strengthened the connection between Gina and Harry because we really got to see Harry struggle with his feelings.
Another thing I liked about this story was that though yes, Harry was the billionaire hero, he was a pretty decent guy, not overly alpha and controlling, and he was a bit out of his league with Gina, though in a different way as she was not employed in a position of power like he was. Their story was sweet, full of attraction and friendship, and I found myself on pins and needles awaiting their HEA. It was well worth the wait.
Rating: ****1/2 out of *****
How do you feel about stories of unrequited love?
Do you prefer the hero or the heroine to be the one affected,
or doesn't it matter to you?
Labels: Harlequin Presents, Helen Brooks