Sunday, May 18, 2008: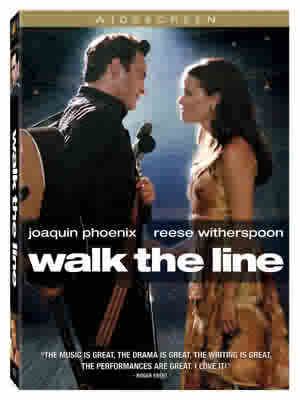 In 1955, a tough, skinny guitar-slinger who called himself J.R. Cash walked into the soon-to-be-famous Sun Studios in Memphis. It was a moment that would have an indelible effect on American culture. With his driving freight-train chords, steel-eyed intensity and a voice as deep and black as night, Cash sang blistering songs of heartache and survival that were gutsy, full of real life and unlike anything heard before. That day kicked off the electrifying early career of Johnny Cash. As he pioneered a fiercely original sound that blazed a trail for rock, country, punk, folk and rap stars to come, Cash began a rough-and-tumble journey of personal transformation. In the most volatile period of his life, he evolved from a self-destructive pop star into the iconic "Man in Black" facing down his demons, fighting for the love that would raise him up, and learning how to walk the razor-thin line between destruction and redemption.
I grew up listening to Johnny Cash; both my parents loved that 70's and older country music, so it was a staple in our house, whether we were in the car or in the living room during dinner. I admit I didn't appreciate my parents' music much growing up. It wasn't until years later I began to really listen to it and realize how much I actually liked it. Still do.
I'm a fan of both Joaquin Phoenix and Reese Witherspoon, so of course I wanted to see this movie. They are good together, and you can see the immediate chemistry between them very easily. I remember Johnny way more than I do June, but I think I got a good feel for their relationship and romance over course of several years.
We see John (JR) as a young boy working and fishing with his older brother, who plans to be a preacher one day, but dies in a tragic accident at an early age. This loss has a huge impact on Johnny's life, especially as he feels guilty for his brother's death, and is made to feel responsible for it. When he gets older, Johnny goes into the military and is stationed in Germany. He misses his girlfriend Vivian, and proposes to her (he's 22). They get married when he returns to Memphis and John tries to work as a salesman, but he's got music stirring too strongly in his blood. This doesn't sit well with his wife, who doesn't plan to be poor.
One day John comes across Sam Phillips and his studio. Getting together the two buddies he plays with, John gets an audition at Sun Records and they give a lackluster performance of a well-known song that doesn't impress Mr. Phillips. He wants something real, something from the gut. He's reluctant, but John sings a song he's been writing, and you just know that this is "it". A song John has lived and felt.
Things happen pretty fast, and soon John and his band are playing live. He meets an early inspiration, June Cash, whom he's quite taken with, and plays venues with acts like Jerry Lee Lewis and Elvis Presley. He starts taking drugs early on, and before too long there were other women. Vivian tells John, while pregnant with their second child, that she will never divorce him. Vivian, portrayed by the radiant Ginnifer Godwin, comes across as being cold and selfish, but at the same time, she's also a Christian woman trying to keep her family together as best as she can without much help from her husband.
Johnny spends more time with June, as they are all on tour together, and eventually things heat up between them, but June later marries someone else and John turns more and more to pills. I didn't realize Cash had a drug addiction when he was so young, but he apparently had some demons, as well as love for a woman other than his wife. It isn't until a few years later that John finally divorces Vivian, or rather she leaves him because of his drug problems, and he's more addicted than ever, even getting himself arrested, yet still he doesn't stop. He lies to his family and even to June, saying he's off the pills. But with the help of June and her family, John slowly overcomes his addiction, and he starts singing again, including an incredible performance at Folsom prison. He starts to re-build his life, accepting God into it and being a man worthy of his June.
I enjoyed this movie very much, and just loved Joaquin and Reese together. They both lit up the screen. Of course anything based on actual events must be taken with a grain of salt, as there are always more than one or two sides to a story, and I'm sure not all of the people involved would agree with the outcome, especially John's and June's children from their different marriages. I read that John and June approved of the casting of Joaquin and Reese, but both singers passed away in 2003, before the finished product. Their's was an incredible love story, and now they are together forever.
If you haven't seen the movie, I definitely recommend it. The music is incredible, and Joaquin sounds eerily like Cash at times. It spans from 1952 - 1968, so there are several decades after that are missing, but it tells the beginning of an amazing career and marriage. It's over 2 hours long, but they pack a lot into it, and the time just flew. Now that's the sign of a good movie.
Rating: **** 1/2 out of *****