Wednesday, April 30, 2008: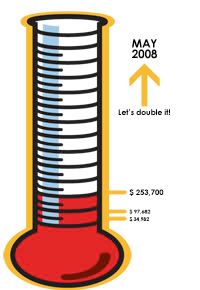 No one wants to see a child suffer, which is why I always mark my calendar this time of year for this event every May. I hope this year is even bigger and better than it's been so far, and it's so easy to become involved. It's so touching to see how many people do step up to the plate and do what they can. That's all you can do. Join in the fun and help a very important cause.
Each year, I offer a fabulous prize package to the person who places the most bids over all (even if that person doesn't end up winning a single item). This year, the prize package includes:
A brand new Camcorder (retail value of at least $1,000),




Your Name in My Next Book,




An autographed copy of TRUST ME (6/08--the first of The Last Stand series),




and Chocolate (lots of chocolate!)
**************

Some of the featured items up for auction are:
6-day HAWAIIAN vacation package including airfare (courtesy of author

Jane Porter

)




46" LCD HD Samsung TV from Frye's Electronics




Amazon Kindle & $100 Amazon gift card donated by K.M. Daughters




Editor for a Day at Kensington Publishing
Sounds pretty cool, huh?
Visit the auction here. It's going on for the entire month of May, but some auctions close earlier.
GOOD LUCK!

Labels: auctions, Brenda Novak