Monday, May 05, 2008:
Paperback: 312 pages
Publisher: Samhain Publishing (April 29, 2008)
Language: English
ISBN-10: 1599987619
ISBN-13: 978-1599987613
Talk about a compromising situation! A storm of political intrigue, murderous mayhem and sexual hungers is brewing on planet Regelence. Swarthy Intergalactic Navy Captain Nathaniel Hawkins ran from a past he had no intention of ever reliving. But when his Admiral asks him to use his peerage, as an earl and the heir to a dukedom, to investigate a missing weapons stash, hes forced to do just that. As if being undercover on a Regency planet where the young men are supposed to remain pure until marriage isnt bad enough, Nate finds himself attracted to the kings unmarried son.
All Prince Aiden Townsend has ever wanted was to be an artist. He has no interest in a marriage of political fortune or becoming a societal paragon. Until he lands in the arms of the mysterious Earl of Deverell. One look at Nates handsome face has Aiden reconsidering his future. Not only does Nate make a virile subject for Aidens art, but the great war hero awakens feelings in Aiden he has never felt, feelings he can't ignore.
After a momentous dance at a season ball, Aiden and Nate find themselves exchanging important information and working closely together. They have to fight their growing attraction long enough to find out who stole the weapons and keep themselves from a compromising situation and certain scandal.
Warning, this title contains the following: explicit sex, graphic language, violence, hot nekkid man-love.
I saw quite a bit of buzz over this book in blogland, and thought what the hell, I've read and enjoyed man-love stories before, so I ordered it (though I go more for it when two totally hetero guys are lusting after each other, but that's just me). It was definitely an interesting read.
Older, masculine, virile Captain Nate is sent to Regelence, a planet when young, unmarried and titled men are treated like coveted prizes and must be protected from scandalous encounters or end up ruined. It's a twist on our beloved historicals, where young women are the ones whose virginity is valued at all cost. Anyway, Nate is there on a mission, and though he's drawn to the young, artistic Aiden, he has a job to do, and has no interest in marriage whatsoever. Besides, he has nothing to offer Aiden, certainly not a stable and comfortable life.
But Nate is a man with strong appetites, and the fantasies he has about Aiden get more insistent the longer he's around the young prince. Nate is tempted beyond endurance, and must eventually make a choice, one that will change his life forever.
My thoughts:
Definitely an erotically hot book. But my personal preference when I read a m/m romance is that both men are equally masculine and alpha, so I wasn't completely drawn into this story with one of the characters, Aiden, playing the more effeminate and submissive role. It's not that I didn't like him, it's just that I have a difficult time relating to him or finding him attractive. If Aiden was just as virile and dominating as Nate, I would have loved it. Again, that's just me.
I did enjoy the story, was intrigued by the fact that same-sex marriages were not only accepted but also the norm on Regelence. I was definitely drawn to Nate, who was a very earthy and forceful character, and very sexual. It wasn't a story filled with one sex act after another, there was actually a plot, and that definitely made it a better story, and made the scenes between Nate and Aiden crackle with tension.
As much as I enjoyed it, I don't know that I would pick up another book by this author. Much like I'm not into BDSM storylines, I'm not into m/m stories where there is one character considerably more dominant than the other. Just doesn't flip my switch, romantically or sexually, in my books. It's still a good story, well told with possibility for sequels, it's just not my thing. And it's my perogative to change my mind later.
Rating: ***1/2 out of *****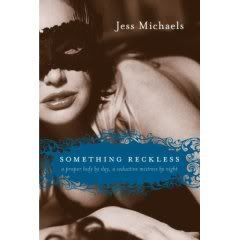 Paperback: 272 pages
Publisher: Avon Red (April 22, 2008)
ISBN-10: 0061283975
ISBN-13: 978-0061283970
Prim, headstrong, and beautiful Penelope is determined to expose the licentious affairs of the ton's randiest rakes. Now one of their powerful number—the unrepentant libertine Jeremy Vaughn, Duke of Kilgrath—has been selected to put an end to the prudish lady's interference. Jeremy's plan is devilishly clever: He will join Penelope's war against immorality, fighting passionately by her side, all the while showering her with anonymous erotic missives designed to titillate even the coldest, most unwilling maid. He will break down her defenses and inflame her repressed desires by escorting her (in the interests of their "noble campaign") to London's most notorious pleasure palaces. And he will visit her boudoir—masked—during the night to school her in the deliciously sinful arts she wishes to abolish. Then he will expose her hypocrisy to the world.

But the handsome rogue's scheme is doomed to go awry, even as the lovely Penelope sheds her every inhibition and freely gives in to his every whim. For in this sensuous game of hearts, it's the seducer who becomes seduced . . .
This book is the 2nd in a series by Jess Michaels, the previous being "Everything Forbidden" which I'd reviewed. At the ending of that book, Miranda's sister Penelope was engaged to be married to a man she didn't love, and she wasn't very happy with her sister Miranda because she believed she'd sold herself for the good of the family, and that just didn't sit well with Penelope.
Now, two year later, Penelope is a widow and the chosen leader of a crusade against immoral and deviant behavior in society. Wives and mistresses are up in arms, indignant over the men the men in their lives are treating them so callously, and Penelope finds herself to be on the receiving end of both praise and strong criticism. The men especially are fed up with her, and one man, Jeremy Vaughn, has decided to be the one to bring the prim and proper lady to her knees. His plan is simple: he will pretend to befriend her, all the while using his considerable charm and mutual attraction to seduce the lovely Penelope into declaring defeat in her battle against sensual pleasures. Of course the poor man never expects to find his heart engaged by this sad and passionate woman.
This book answers many of the questions I had after I read the first story, and continues in the same emotional and sensual style as "Everything Forbidden". Penelope has never known pleasure, but keep down she's tempted by it, and by Jeremy, Duke of Kilgrath, though she knows he is the exact type of man she is fighting against. When he offers friendship and the desire to turn over a new leaf, she's suspicious, but also intrigued. I sympathized with her for being drawn into a cause that wasn't one of her making, but one she took on just the same. She didn't want women to be treated poorly by their husbands and protectors, and felt that many of them were.
This book was wonderfully sensual, drawing out the sexual tension between Penelope and Jeremy slowly and steadily all while letting them get to know each other. Penelope turned to Jeremy when she needed a confidante to discuss her most private thoughts, and he in turn got to see who the real woman was behind all her crusading. She was not a dried-up, harsh and cruel person, just one who's never experienced great passion or pleasure. Watching as they fell in love with each other was just delicious. I can't help it, I was in a sappy mood and this book totally worked for me. I'm definitely a fan of this author.
Rating: ****1/2 out of *****
Paperback: 352 pages
Publisher: Kensington (August 1, 2006)
ISBN-10: 0758214073
ISBN-13: 978-0758214072
RESCUE ME...
Journalist Jenny Yuen lands a very steamy assignment: cover a firefighter calendar competition with some of the hunkiest half-naked heroes ever. Her personal favorite? Mr. February. Also known as Scott. Also known as hot...
Read all about it: the muscular, sexy rookie is the man of Jenny's dreams - her wildest dreams. She's up for a wickedly sensual game if they play by their very own set of rules: No taboos. No holding back. No commitment. But the desire they feel is impossible to control...and even harder to resist...
I'd read the first book, "Champagne Rules" ages ago, and have had this book on my tbr pile for quite some time. The Aphrodisia line is hit or miss with me, sometimes trying to be too sexual and shocking to be interesting, so I wasn't sure what to expect with this book, but I was in the mood to read it.
Jenny Yuen is a young journalist who still lives at home with her very old-fashioned Chinese family. Despite that, she manages to have a pretty wild sex life, finding herself attracted to non-Chinese men that her family would never approve of. This leads her to lie to her family a lot in order to keep the peace. Keeping her sane are her three best friends. Together they make up the Awesome Foursome, all from different walks of life but who've found strong friendships with each other.
Jenny first meets Scott Jackman as he competes in a contest to be selected as part of a firefighter calendar. His incredibly sexy dance definitely works big-time for Jenny, and though he's the type of guy who goes for the usual busty, blonde type, Jenny knows she's got a secret weapon that gets 'em everytime. Sure enough, Scott can't ignore the confident, sexy Jenny, and soon the two of them are engaged in a heated affair, driven to fulfull their endless supply of sexual fantasies. Jenny knows there can never be anything more between them, even though Scott starts to have stronger feelings for her, and keeps a firm distance from him. Things start to get complicated when Jenny sees sides of Scott that draw her to him emotionally, and this bothers her because she knows that her family will never accept a non-Chinese man into the family. Can there ever be anything more between them?
My thoughts:
Wow, I really liked this one. Jenny was a fun, spunky heroine. I thought it was great that she reveled in her femininity and always wore pink, but didn't get all giggly and helpless in front of Scott. She was very much an independent woman, but one who didn't hide from her physical attributes but rather played up to them with pride. I also liked how respectful she was towards her family, even if she didn't agree with many of their beliefs. The lying was a bit hard to take, though I could see how she felt justified. The worst part was when it ended up hurting Scott, a totally hot guy who had way more depth than she originally gave him credit for. He revealed himself to her slowly, unintentionally, and whether she liked it or not, Jenny fell in love.
I was interested through the whole book, and read it in less than a day. It was a great story, the sex was hot and the fantasies were fun and sexy, and now I want to read Ann's and Rina's stories. Great end to a reading weekend.
Rating: **** 1/2 out of *****
Labels: J L Langley, Jess Michaels, Susan Lyons