Monday, May 26, 2008: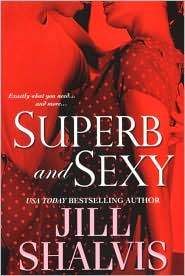 Paperback: 320 pages
Publisher: Brava (May 27, 2008)
Language: English
ISBN-10: 0758221843
ISBN-13: 978-0758221841
When you want to fly the best, you fly Sky High Air. And when you want spectacular adventure and scorching seduction, Jill Shalvis's tantalizing, talented pilots Noah, Shayne, and Brody will get you there-fast, slow, or any way you want it.

BUCKLE UP. IT'S GOING TO BE QUITE A RIDE.

Despite his brooding bad-boy attitude, Brody knows life has treated him pretty well. His luxury charter airline, Sky High, has given him financial security and the means to take to the skies whenever things on the ground get complicated. And lately, things have become very complicated, thanks to the insanely passionate, or perhaps just insane, kiss he shared with Sky High's gorgeous, wisecracking concierge, Maddie. He's tried to keep his distance, but now Maddie desperately needs help, and it's triggering protective alpha-male urges Brody didn't even know he had.

For months, Maddie hid her crush on sexy, exasperating Brody behind a cool, kick-ass exterior and then blew that to smithereens by jumping him in the lobby. Yeah, real smooth. She's tried to break her ties with Sky High, but Brody won't let her walk away-especially now that he knows that Maddie and her twin sister Leena are in big-time trouble. To save Leena, Maddie and Brody must pose as husband and wife, and Maddie is amazed that the man she thought was oblivious to her existence knows her very well indeed. But that's nothing compared to the way she's about to get to know him-intimately, in depth, and over and over again.
Finally. I've been totally crushing on Brody since the very first book, when he and Maddie set the pages on fire with their barely contained attraction, and was incredibly lucky to win an ARC from the lovely ladies over at Book Binge. This was one of my most anticipated stories of 2008, and my girl Jill did not disappoint. You rock, Ms. Shalvis.
Maddie loved her life as the kick-ass, rockin' concierge of Sky High Airlines, and she adored the men she worked for, knowing they felt the same way about her. At the controls, Maddie owned the world, and she knew it. If there was any glitch in her life, in was her irritating but oh-so-hot attraction to Brody West, one of the owners and pilots of Sky High and a grumpy bad boy who completely flipped her switch, and drove her absolutely crazy. But now a bigger threat to her existence has been dumped into her lap and she's going to have to walk away from the best job she's ever had, and the hottest guy she's ever known, in order to protect the one person she loves more than anything, her sister Leena.
Brody can't believe Maddie is walking away from Sky High and him, Noah and Shayne. Not when they need her, and rely on her amazing concierge skills to keep things running smoothly. Maddie was the heart of the operation, and nothing was the same without her. She had to know how much they all cared about her, and thought of her as part of their rag-tag family. So now he's come to find her and bring her sassy self back home, right where she belongs.
But when he arrives at the isolated cabin, he knows right off something's up. Maddie isn't her usual self, in fact she's almost afraid of him, and keeps trying to send him away. But he's not having it. Barging into the cabin, he figures out what the weird deal is: Leena, her identical twin, was pretending to be Maddie in order to get rid of him. And Leena's in trouble. As in "could end up dead" kind of trouble. Turns out Leena is involved in something illegal, and she needs her sister's help.
Determined to get involved, Brody tries to take control of the situation, but Maddie is equally determined to leave him out of it and ditches him. Frustrated and confused, he follows her, and finally gets her to see that he's not going anywhere, so she might as well accept his help. Even if it means going to a place Maddie hasn't been to in over 10 years, and facing the past and overcoming the present. Because now Brody has truly seen inside Maddie's heart, and he wants it for his own, and there's no way he can let her go now, especially if it means she could end up hurt. Brody has finally found the one thing that he loves more than flying, and it's the sexy, crazy, loving woman who breaks his heart again and again, and he's willing to risk it all for the chance to be with her, any way he can.
My thoughts:
Anyone who's read my blog knows how long I've been jonesing for this book, and I know I've whined to Jill at least a hundred times, and, well, it was so worth the wait! I completely loved Maddie; she's super smart, tough, caring, capable, and puts the 3 guys she works for to shame. Plus she's not afraid to show off her feminine side and definitely plays up her assets with her clothes and makeup. She's not perfect, and she's a bit of a snob, but she's rather easy to identify with on an emotional level, and you gotta love a heroine who isn't all about being complete only when she finds a man. She doesn't all of a sudden blossom when she hooks up with Brody - she's been a vivid, intelligent, totally cool woman all along, and she doesn't try to hide it. Maddie also absolutely loves her sister, and would do anything to protect her, and who wouldn't identify with that?
Brody is the kinda totally hot bad boy I go for: a bit of a broody mechanic (love those blue-collar boys) with over-long hair, a casual dress code with a penchant for loud rock music (Note to Jill: if you know of any real life Brodys, please send 'em my way. Thanx). I love how Maddie gets him all flustered and unsure of himself, and also turns him on like no other woman around. It's also totally cool that he wants to protect her, but also steps back and lets her do her thing. He totally gets her, accepts her, and it's cool to see how he's not threatened by her aggressive personality.
And when they finally get busy, wow, it's scorching HOT! A mere kiss between them is way more incendiary than most the sex scenes in some of the erotic romances I've read, and that's because Jill knows how to totally amp up the tension and the emotion here. So much so that I got a bit teary-eyed at the end, but it was the sappy, sighing kind. Of course I was very sad to see it end, but kudos to Jill for ending the trilogy on a high note, and for giving Brody and Maddie a well-deserved and unforgettable HEA. I
loved
it.
Rating: ****1/2 out of *****
Labels: Jill Shalvis