Tuesday, May 20, 2008: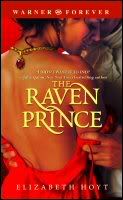 Mass Market Paperback: 392 pages
Publisher: Forever (November 1, 2006)
ISBN-10: 0446618470
ISBN-13: 978-0446618472
THERE COMES A TIME IN A LADY'S LIFE...
Widowed Anna Wren is having a wretched day. After an arrogant male on horseback nearly squashes her, she arrives home to learn that she is in dire financial straits. What is a gently bred lady to do?
WHEN SHE MUST DO THE UNTHINKABLE...
The Earl of Swartingham is in a quandary. Having frightened off two secretaries, Edward de Raaf needs someone who can withstand his bad temper and boorish behavior. Dammit! How hard can it be to find a decent secretary?
AND FIND EMPLOYMENT.
When Anna becomes the earl's secretary, both their problems are solved. Then she discovers he plans to visit the most notorious brothel in London for his "manly" needs. Well! Anna sees red—and decides to assuage her "womanly" desires . . . with the earl as her unknowing lover.
I know, I waited a long time to read this trilogy, but finally I decided to read it all in one shot. This one was probably my favorite of the three.
Widow Anna is in dire need of funds to support herself and her mother-in-law. Discovering the Earl of Swartingham is in need of a secretary has her determined to land the position in his household. Practical and not easily intimidated, she meets with his man of affairs and is accepted for the position, though doesn't meet the irrascible earl right away. By the time they do meet, she's proven herself to be a very efficient secretary, and upon finally being properly introduced to Edward, does not back down from his boorish manners, and instead of being repulsed by his less than handsome looks, she finds the earl to be rather masculine and appealing to her feminine nature.
Edward is not pleased to have a lady serve as his secretary, but as he's managed to scare off his previous employees, he doesn't have much of a choice. At first Edward finds Anna to be rather plain and lacking in color, though he's distracted by her generous mouth. The longer he gets to know her, however, the more he notices about her, and the more it appeals to him, though he's loathe to admit he's attracted to her.
Off to London to meet with the family of his prospective bride, Edward decides to make the most of this trip and take care of the unsatisfied lust he's feeling for his secretary by visiting a discreet brothel. Anna learns of his intentions, and is unusually upset and angry with the earl. Feeling the same attraction towards her employer, she decides to satisfy her own desires for Edward by becoming the woman he beds without him knowing it is she. But when feelings are engaged, will she ever be able to share her secret with the man she loves, and if he finds out, will he be able to forgive her?
My thoughts:
Like I said, this one was my favorite story. Very sensual, and definitely full of sexual tension between Anna and Edward. The earl knows he must marry, and has selected an acceptable candidate, but he's drawn to Anna, and enjoys the fact she's not afraid of him, nor is she reluctant to speak her mind. I loved how the more they were around each other, the more attracted they became. I liked their friendship, and respect for each other as well. One thing that keeps me from loving this book completely is Anna's behavior when Edward realizes she is the woman he made passionate love to in London. We had to know that when Edward finds out about Anna's deception that he will feel betrayed and will lash out at her because his feelings have become engaged and he feels like he's been played for a fool by her, but I wasn't expecting Anna to all of sudden to become meek and timid, nor to run from him with her tail between her legs. It just didn't fit with the personality she'd exhibited so far, and I was disappointed in her for this. Eventually they both come to realize that they are truly in love, and their HEA is realized, though it would have been so much more rewarding if Anna had fought for her man from the get-go. Still, this story has much to recommend it, and I was seriously engaged by it from the very beginning. It's definitely worth reading.
Rating: ****1/2 out of *****
Mass Market Paperback: 384 pages
Publisher: Forever (April 1, 2007)
ISBN-10: 0446618489
ISBN-13: 978-0446618489
THE ONE THING A LADY MUST NEVER DO
Wealthy Lady Georgina Maitland doesn't want a husband, though she could use a good steward to run her estates. One look at Harry Pye, and Georgina knows she's not just dealing with a servant, but a man.
IS FALL IN LOVE...
Harry has known many aristocrats—including one particular nobleman who is his sworn enemy. But Harry has never met a beautiful lady so independent, uninhibited, and eager to be in his arms.
WITH HER SERVANT.
Still, it's impossible to conduct a discreet liaison when poisoned sheep, murdered villagers, and an enraged magistrate have the county in an uproar. The locals blame Harry for everything. Soon it's all Georgina can do to keep her head above wat
er and Harry's out of the noose...without missing another night of love.
Harry Pye is not part of the aristrocracy, but Georgina doesn't care. He does his job well, and that's all that matters. When the local magistrate, an aristocrat who despises Harry, accuses him of poisoning his sheep and tries to arrest Harry, George refuses to turn him over to the authorities. She believes in the innocence of her steward, even if no one else does. Not only that, George is strongly attracted to the masculine and earthy Harry, and decides she must have him and tries to engage him in a heated affair.
But Harry isn't having it. He's too busy trying to prove his innocence and avoiding being dragged to the gallows to indulge the beautiful Georgina, despite the fact he finds her to be quite a tempting morsel. Yet he underestimates the determination and cleverness of his employer, and finds himself succumbing to her wiles even while he knows she will surely be the death of him.
To make matters worse, his enemy is more relentless than ever, and Harry realizes his lady love may be in danger. But Harry's greatest downfall may be his own feelings for the irresistible George, who makes him believe that there may actually be such a thing as a happily ever after, if only he'll survive long enough to find out.
My thoughts:
My second favorite story. Harry doesn't ask for much, just a paying job and a roof over his head. He's good at what he does and he enjoys it, and never once did he think his life would be turned upside down by love. I liked his practical nature, but also his sensual side, and his acceptance of his fate of being seduced by George. I liked how while George could come across as an airhead, she really was very intelligent and intuitive, and used men's narrowmindedness towards women to get her way. I also liked how she didn't shy away from the sexual feelings Harry ignites in her, and is very eager to explore them and see where it leads.
As someone who loves animals, anything involving an animal dying outside of natural causes bothers me, so there were a few instances I didn't care to read about. I also thought Harry's enemy, the magistrate, was incredibly cruel, even to his own children, and made a worthy villain, though he was incredibly obsessed with getting the justice he thought he was due. You just felt he couldn't be convinced of Harry's innocence, no matter what proof he was presented with.
I really liked Harry and George together, thought her sometimes her roundabout common sense and cheer did wonders for the overly serious Harry. And of course there's that lovely revelation when he realizes that George is "his lady" and nothing will do but to make her his wife, not out of any sense of duty, but because he loves the stubborn woman. Love that.
Rating: **** out of *****
Mass Market Paperback: 384 pages
Publisher: Forever (September 1, 2007)
ISBN-10: 044640053X
ISBN-13: 978-0446400534
WHEN THE DEVIL MEETS AN ANGEL
Country bred Lucy Craddock-Hayes is content with her quiet life. Until the day she trips over an unconscious man—a naked unconscious an—and loses her innocence forever.
HE CAN TAKE HER TO HEAVEN
Viscount Simon Iddesleigh was nearly beaten to death by his enemies. Now he's hell-bent on vengeance. But as Lucy nurses him back to health, her honesty startles his jaded sensibilities—even as it ignites a desire that threatens to consume them both.
OR TO HELL
Charmed by Simon's sly wit, urbane manners, and even his red-heeled shoes, Lucy falls hard and fast for him. Yet as his honor keeps him from ravishing her, his revenge sends his attackers to her door. As Simon wages war on his foes, Lucy wages her own war for his soul using the only weapon she has—her love…
Lucy believes the man in the ditch is dead when she first spots him, only to discover he's actually been beaten very badly. Unable to just leave him there, he's brought back to her home to heal.
Simon is quite taken with "his angel" and is bemused that she does not immediately swoon over him as any young lady of marriage age would. But that's just as well, as he must concentrate on getting better and not on seducing a young maiden soon to be engaged to the proper man to be her husband. Besides, Simon is obsessed with avenging the death of his older brother, and nothing will get in the way of him exacting his revenge, not even the lovely Lucy who tempts him to latch on to something clean and pure.
Lucy is fascinated by Simon, who is unlike any other man of her acquaintance. How can marriage to a country vicar ever satisfy her now when she's gotten a taste of grander things? Not one to wear her heart on her sleeve, she nevertheless falls for Simon, but accepts he will soon leave her home and walk out of her life for good, and her life will never be the same.
Simon does indeed walk away from his angel, and continues on his destructive path. He's so tired, and one thinks he almost wishes he were the one to meet his Maker instead of his enemies. His heart is dead, and once he choose his path he knew there was no turning back. But maybe the love of a good woman will cleanse his soul, and give him a peace he's never dreamed of.
My thoughts:
Much, much darker than the previous books, and it felt so different. In book one, we learn that Edward, Harry and Simon are all friends who enjoy coffee together at a coffeehouse for men who have a fascination for agriculture, and as the trilogy progresses, it is easy to match Edward and Harry as being of a similar mind and forming a life-long friendship. Simon comes across as a man more vain, what with his red pumps and wigs, and although he's an aristocrat like Edward, he just doesn't seem to mesh with the other two men. It's difficult to explain, but I wasn't as convinced of his role as friend to Harry and Edward. Maybe that's just me.
Simon comes across as a rather mocking, carefree lord, but he's also bitter, and determined to exact his revenge in a most violent and bloody way. I understood his need for Lucy, who as his angel gives him a chance at redemption, but there were moments I felt he was lost to the dark side and even Lucy wouldn't be able to bring him back. There was a hopelessness to Simon that I couldn't shake, even when there comes a moment when he does do the right thing. This story left me a little unsettled. I think if he didn't love and need Lucy as much as he did I probably wouldn't have had much of a hope for Simon. The ending is optimistic, and Simon begins to come to terms with his brother's death and learns to make peace with it, and looks forward to forging a good life with his angel. That made up for a lot, and while it wasn't my favorite, I can still say I enjoyed a lot of the story and it came to a satisfying conclusion.
Rating: **** out of *****
Labels: Elizabeth Hoyt