Wednesday, May 21, 2008: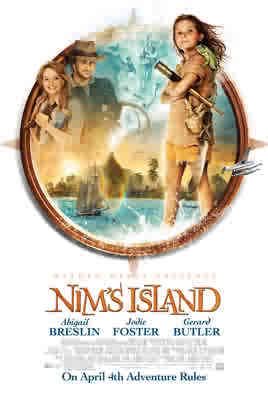 Anything can happen on Nim's Island, a magical place ruled by a young girl's imagination. It is an existence that mirrors that of her favorite literary character, Alex Rover - the world's greatest adventurer. But Alexandra, the author of the Rover books, leads a reclusive life in the big city. When Nim's father goes missing from their island, a twist of fate brings her together with Alexandra. Now they must draw courage from their fictional hero, Alex Rover, and find strength in one another to conquer Nim's Island.
Gerard Butler. That's all I needed to hear before deciding to go see this movie. I had no idea what the movie was about when I agreed to see it, other than who was in it, and I was perfectly fine with that.
Gerard plays Jack Rusoe, a scientist who lives on "Nim's Island" with his young daughter Nim. She lost her mother, an oceanographer at a very young age, and is home-schooled by her father. She reads books, and plays with her friends Selkie (a sea lion), Fred (an iguana) and Galileo (a pelican). Her favorite stories are by an explorer named Alex Rover, who tells incredible tales about the many exciting adventures he experiences. Given Nim's imaginative and inquisitive nature, she devours these stories and can't wait to find out what he's up to next.
One day Jack decides to go out on a scientific mission at sea, and asks his daughter to come with him. But she feels she's old enough to stay at home and take care of their home and the animals. He promises he'll only be gone for two days, and he'll be in contact with her in case she needs him. But as you can expect, an unexpected storm has Jack lost at sea, and he has no way to contact Nim.
Meanwhile, Nim goes about her day, playing with her animal friends and reading her book. She responds to her father's emails, and discovers one from Alex Rover, of all people. Turns out Alex is not the intrepid explorer of Nim's expectations, but rather Alexandria Rover, a neurotic woman afraid to leave her apartment. With an uncooperative muse by the name of Alex Rover taunting her, and who just happens to look a lot like Jack by the way, the author is suffering from writer's block, and needs some research assistance from Nim's father. Nim is thrilled that Alex has contacted her father, and doesn't hesitate to act in his place.
But when Jack fails to return home, and the island about to be taken over by an overzealous cruise ship captain, Nim doesn't know what to do. She emails Alexandria, asking for help. Alexandria, who lives halfway around the world in San Francisco, tries to help by calling 911, but her efforts are obviously futile. With the encouragement and challenge from her muse, Alexandria finds the courage to leave her apartment to go and save a little girl who is all alone, and afraid she's lost her father.
My thoughts:
Cute movie, though you might want to wait til it's out on DVD. Definitely for kids and families. And fans of Gerard Butler, who conveniently finds reason to go shirtless, which is a definite bonus. Nim is a fearless and happy child who is well-loved by her father. She lives on a beautiful island, and has lead an amazing life. If anything is missing, it's contact with other people, especially those her own age, and when she needs help the most, she cannot turn to her father, but must rely on the assistance of a complete stranger.
Jodie Foster is very funny as the lonely and stressed out writer afraid of everything, and Gerard does a great job of playing both Nim's science geek father and Alexandria's handsome, fearless adventurer. Abigail Breslin plays Nim, a cheerful, smart young lady who's protective of her island and her animal friends, and of course her father. If she looks familiar, she's been in "Little Miss Sunshine" and "Definitely, Maybe". So yeah I'd recommend it for something to watch with young kids. It was a fun flick.

Rating: **** out of *****
Labels: Gerard Butler, movies