Tuesday, October 16, 2007: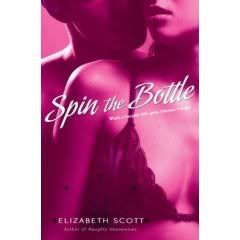 Paperback: 288 pages
Publisher: NAL Trade (October 2, 2007)
ISBN-10: 0451222164
ISBN-13: 978-0451222169


Three sexy couples on a getaway weekend. Consider the possibilities...

Hot...Rena and Paul are respected corporate big shots. But behind their clean-cut image is a down and dirty fantasy that drives Rena wild-being a slave to the anything-goes sexual demands of her merciless master.


Hotter...Jackie and Rod's marriage ended a decade ago. Now they're together again, each with a fantasy that could tear them apart once more. Unless they bare their souls and admit what they really want from each other.


Hottest...Ed and Charmaine's sex life is already thrilling. Then they come upon the stimulating medical instruments that belonged to Ed's great uncle. So many cold hard toys. So much potential. So many ways to play doctor.

Having read and enjoyed Scott's "Naughty Housewives", I was eager to get this new anthology of forbidden fantasies. Some of the stories involved fantasies that did not rank in my top 10, probably not even in my top 100, but there's no denying that the stories were compelling and seductive in their own way.

Warning

: not for the faint of heart.
In "Master of the House", Rena is tired of always being the one in charge at work, and just once would like someone to take the responsibility from her and make all the decisions. Having shared her secret fantasy with her husband Paul while during a naughty game of "Spin the Bottle" with some close friends, she has no idea that Paul will decide to give her exactly what she asks for, maybe in a way she never anticipated, but soon finds she craves.

Part of the submission/domination fantasy appeals to me, but not the way it was written in this story. I've been never gotten into the punishment scenario, or the withholding of sexual pleasure so only the dom is fulfilled, though maybe that is part of the whole fantasy for the sub - to not achieve release until the dom allows it to happen, whenever that may be. Scott never goes deeply into the humilation aspect of it, though a bit of it is shown here, enough to comprehend how these types of physical relationships are supposed to work. While it's not a situation that appeals to me, there were moments during the story that drew me in despite my aversion, and I found myself accepting the storyline because it was obviously a fantasy shared by both Rena and Paul, one they both enjoyed playing out together. In that way, the story ended up making sense, and I appreciated a glimpse into the lifestyle, and how it can be pleasurable to consenting adults.

In "Your Place or Mine", Rod and Jackie are enjoying marriage the second time around. Too immature and selfish to work on their marriage years ago, this time the couple are determined to work on their relationship and being as open and as honest as they possibly can. Playing a sexy game where they reveal their deepest secrets brings even more truth to the marriage, until both Rod and Jackie decide to do something about it. Rod tells Jackie he fantasizes about having sex with women who are strangers, then walking away. He has no idea that Jackie will try to make his dream a reality, nor the lengths he's willing to go to to prove to his lovely wife that she really is his fantasy woman.

This story worked for me moreso than any of the others, though there were moments that made me uncomfortable and reluctant to admit thay I actually enjoyed what was happening. Ms. Scott totally blows some pre-conceived notions I've had out of the water, and makes me look at this scenario in a new light, while almost forcing me to come to terms with my own previous thoughts on acting out sex with a stranger, though most scenes strictly involve the hero and heroine. The biggest plus to this story, as well as the others, is the level of caring and respect each person has for their partner, and the complete trust and love that frees them to explore their sexuality together in a mutually satisfying way. The events actually bring the couple closer, and strenghen their marriage when they give each other complete trust.

"Doctor, Doctor" was probably the most confusing story for me, as it was more clinical, quite literally yet also figuratively, than the others. Good girl Charmaine confesses to her sexy husband Ed that she imagines being a sex goddess, one that craves sex and cannot get enough. Ed finds his dear wife to be beautiful both inside and out, and cannot imagine why she can't see that about herself, but she's convinced she's boring, and needs to keep the home fires burning to keep her husband interested in her. When the opportunity to indulge in Charmaine's fantasy presents itself, Ed decides to show his wife just how irresistible she is, especially to him.

Okay, there were some parts that had me squeamish in this story, as Ed pretends to be a doctor to his wife, the patient, and administer the cure for her condition. Loving his wife as he does, he wants to push her to accept what she feels, and to fulfill the fantasy she claims is her most secret desire. Yet the lovely blonde shocks her husband when she reveals what it is she truly wants, and wonders if he's ready to share it with her.

This anthology is probably more closely linked to earlier erotica instead of the more current erotic romance so popular today. A bit more clinical and cerebral, the sexual journeys for these three married couples open doors to a deeper understanding of what drives them, whether past insecurities or present responsibilities. While each of the marriages are strong and happy, it goes to show that even as time goes by, couples can learn to communicate more clearly and truly share the deepest part of themselves with their partner. Marriage truly is a work in progress, one that should never be neglected, but instead nurtured and cared for all the days of their lives, especially when dreams change over the course of a relationship.

I admit I enjoyed "Naughty Housewives" more, but still got something out of this naughty anthology, even if not all of the fantasies were my cup of tea. It's the commitment each partner in the couple showed for each other that completely convinced me to keep on reading. The book may not be for everyone, but it's definitely tantalizing in its own way.
Stay tuned for your chance to win a copy of "Spin the Bottle"
Labels: Elizabeth Scott, reviews